Update: I covered my story and how I built my business in much more detail via my first podcast episode which you can listen to here:
Audio clip: Adobe Flash Player (version 9 or above) is required to play this audio clip. Download the latest version here. You also need to have JavaScript enabled in your browser.
More details about this podcast episode can be found here: Podcast 1 and you can subscribe to the podcast on iTunes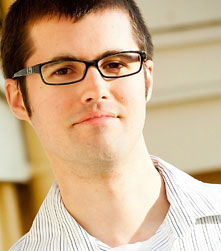 Hello, my name is Chris Guthrie. I'm 28 years old and over the course of my life I've had several interesting experiences as an entrepreneur. I will occasionally update this page when I have more to add to my story.
My first entrepreneur experience
I got my first start as an entrepreneur on eBay when I was back in Junior High School and Pokemon cards were all the rage. No, I never played the game, but I did sell the cards. My mom would take me to the mall where I purchased packs of Pokemon cards at just over $3 a pack after tax and I would then sell them individually on eBay. I would always list them at a penny each to entice bidders (I found this worked best after doing different price strategies) and would often see them sell for around $10 a pack and set a record at $25! I made nearly $1,000 that summer off a niche market that I later abandoned because many more sellers came in and saturated the market. Pretty smart for a Junior High School student right? Well, after I made that money I spent over half of it on Drugstore.com stock right before the dot com crash only to watch my hard earned money disintegrate. Thankfully, I learned my lesson and have since decided to do far more research before purchasing stocks (especially those that aren't even turning a profit).
Improving on what I learned the first time:
A few years later I began to buy and sell more items on eBay, this time I went with Nintendo NES games. I began to buy large lots of games to resell individually. Occasionally I would hold onto a game or two from the large lots I purchased for my personal collection but I got tired of dealing with packaging the games, shipping them, leaving feedback etc. and after making about $4,000 I stopped. I find myself to be routinely excited about something only to get tired of it several months later. Thankfully, I've found something I truly enjoy and am pleased to say I've been happily running websites since 2005; however, let me first tell you about how I started running websites in the first place because I believe it's a good story and I think you'll like it too…
How playing too much Halo 2 lead me to internet marketing:
Fast forward two years from my NES game reselling days and on November 9th, 2004 I had something new to spend my time on - Halo 2. I was currently studying at Western Washington University for my Marketing degree when this game came out and – like the first Halo – I was immediately hooked. I mounted up hours upon hours of gameplay (5,000+ Halo 2 games) and after playing Halo 2 for months I was playing with some of the best players in the world and I was near the tops of the leaderboards. During this time I took a video editing class at WWU and thought it'd be a lot of fun to capture my gameplay and make a montage with all of my best gameplay clips. So I purchased a video capture card for my PC and after capturing footage for a while I put out my first video "Dust 2 Dust", and being among the first group of people to do this sort of thing gamers took notice. Thousands of people had seen that video and given me generally great feedback on it, especially after it was posted on a leading website for professional Halo players, Halo-Pro.com. My first video was received so well that I worked on a plan to utilize my popularity to start a website. I decided that it'd be great to start a website where gamers could share their own game videos, discuss games and hang out. So I purchased the domain name GamingVidz.com and a vBulletin license. Now that the domain name was chosen, I made a video intro for the website in Adobe After Effects to place in the beginning and end of my next montage. After collecting enough footage and preparing the website I released my second Halo 2 montage, "Untouchable" in the summer of 2005. I estimate that it has been downloaded well over a million times from a wide variety of websites. It is still credited as being one of the best Halo 2 montages (I've heard this from countless people and am not trying to sound cocky). After Untouchable hit the net, we immediately saw rapid growth at the site from people that wanted to watch more gaming videos. Here's the video in case you'd like to see it:
I have to credit the video game Halo for getting me into this business
After releasing that second montage, I've launched several more forums which are no longer active. The problem I failed to realize back when I got started making money online is that it's very difficult to monetize forums – particularly those focused on video games (members develop banner blindness).
How I made the leap to full time internet entrepreneur:
I continually tried building new websites and working on finding new ideas to make money. I've since learned that one of the most important things is to focus your efforts on finding niche websites that are inherently profitable and then building a great website designed to serve that need better than everyone else is. It's also important to focus on just one thing unless you have the time available to do more (even then you may still want to do only one thing). With these lessons learned and several more failed websites later I found what worked best for me.
My income levels started growing to record levels throughout 2009 and I had multiple months where I earned mid four figures, in fact my best month of the year was December 2009 where I earned over $13,000. But before I had that record breaking month I had to experience something else first – getting fired. Yes, I got fired from my IT sales job October 13th 2009 which was very upsetting at first. I was very good at my job and they gave me no reason for why I was getting fired. Fortunately for me it was the kick in the pants that I needed. Without a job and entering a terrible job market in the winter of 2009 I knew what I had to do. So I decided to go full time with my web business and since then I haven't looked back. I am a full time internet entrepreneur making a healthy living and have been since Oct 13th 2009.
More in depth blog posts that describe some of my successes:
How I Got Fired In 2009 Then Made $150,000+
How I Sold A Website For Six Figures
How Halo Helped Me Build A Six Figure Income
20 Tips I Used To Make $90,336.65 With Amazon Associates
Last Updated: July 21st, 2011