I've been blogging since 2007 and along the way, I've launched more than a dozen blogs over the years in a variety of different niches. Some blogs have failed and some have been very successful but I still blog today right here on UpFuel where I first got started blogging years ago.
All told, I can link†over a million dollars in online earnings over the years all back to the launch of this blog and the audience I built here years ago.
Besides building blogs, I've also bought and sold blogs over the years in various niches. I've had a six-figure blog exit and a few smaller exits.
Blogging today is much different than it was when I got started over a decade ago but it is still one of the best online business models especially if you don't have a lot of money to start an online business.
You can start a blog for less than $100 with Bluehost.
Disclosure: As a Bluehost affiliate, I receive compensation if you purchase through this link
How To Start A Successful Blog
The three most important factors that will determine whether your blog will be financially successful or not come down to your niche selection, how you differentiate and your level of commitment.
How To Pick A Niche
Niche selection can be an entirely separate in-depth topic worth diving into more detail but for the purposes of this post, I'll explain my niche selection process more simply:
I only like to enter niches that I'm interested in.
There are plenty of topics in the blogging space that can be more lucrative than others, but if you're truly interested in being successful with blogging you have to enter a niche that you have a personal interest in or your chances of success will be dramatically reduced.
I have hired writers in the past to write for me in niches that I don't care for, and this process can be successfully done at scale, but I'm going to assume that if you're reading this guide that you're going to start by working for yourself and you want to know how you can start a profitable blog without hiring help.
How To Differentiate
There are a lot of blogs, but there is always a way to enter a market if you can find a way to differentiate. When I am thinking about launching a new blog I always like to look at what everyone else is doing in the space. How long are their posts? How good is their content? Are there ways I can attack a niche from a different angle?
I'll give you one example from a consumer technology review blog I sold in a six-figure exit:
Everyone else in the niche I entered was happy with simply creating review content without ever actually physically trying the products they were reviewing. So I decided to contact manufacturers in my niche and get them to send me demo products so that I could review. This helped me appear more like an expert in the space while earning valuable links from some very big websites even though I started out as a complete beginner.
How To Commit To Success
It is so incredibly easy to start a blog, as I'll show you later in this post but it's not easy to commit to blogging on a regular basis for a very long period of time.
The crazy thing about blogging is that as you continue to post on a regular basis and start to generate traffic you will find yourself working the same hours on your blog but making dramatically more income later on. The reason for this is because when you first start a blog, it's hard to get initial traffic. Google takes a while to start sending you traffic but once you start getting the traffic it's easier to start driving more over the long run.
Why You Should Use WordPress
There are many platforms that you can start a blog on, but WordPress is by far the leader and the only platform I recommend creating your blog with. I've personally been using WordPress since 2007 and roughly 30% of all websites are powered by WordPress.
Important Note: I don't mean using WordPress.com to start a free blog that looks like yourrandomblog.wordpress.com
No. Don't do that.
I'm talking about using a hosting provider that can host your website and install the free WordPress software for you like my preferred partner Bluehost (follow my tutorial below).
If you were thinking of using a free blogging platform to start out with the intention that you'll eventually move over to your own domain name "after you find success" is the worst mistake you can make when you're starting out.
It literally costs less than $100 to get a blog set up and running for an entire year.
Your startup costs for this business are already so small that it makes no sense at all to try and save money by starting with a free blog.
The main reason why you don't want to start with a free blog is that you'll end up wasting all of the early efforts on a free blog URL that you'll just need to start over with on your own domain later anyway and this can set you back from a Google SEO perspective.
Here's My Step By Step Process For Setting Up A WordPress Blog With Bluehost
Prefer watching a video? Watch this:

Step 1: Sign up for Bluehost
Go to Bluehost and sign up for "choice plus" plan as pictured below. If you ever want more than 1 website, the basic plan won't work for you. The choice plus plan allows unlimited websites and comes with one free SSL cert as well which is a nice plus. The lowest price per month will be available on the 3 year plan, but if you want to start out by only signing up for 1 year you're still looking at spending less than $100.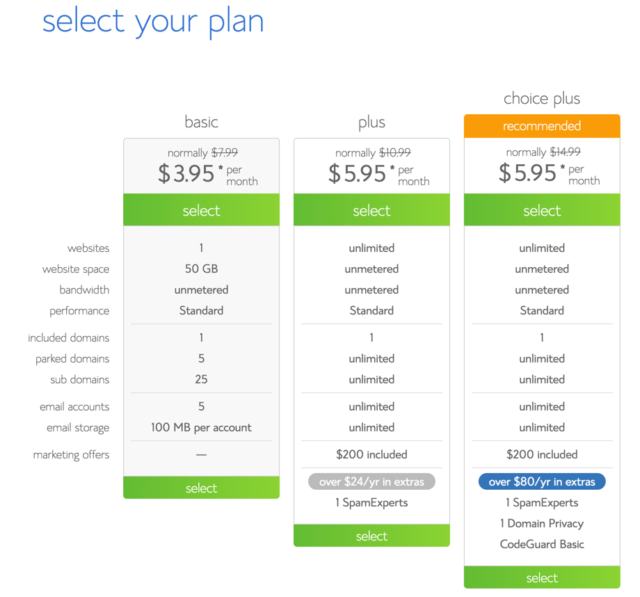 Step 2: Select a domain name
When you first sign up for Bluehost they will give you one free domain with your hosting plan. You can take advantage of this free domain and save an extra ~$10 versus buying the domain from a registrar like GoDaddy. I already use GoDaddy for most of my domain name needs, so in my case I just typed in the domain of something I already had. ListBeginner.com is the domain I selected and I'll use this to publish some content around signing up for an email marketing platform.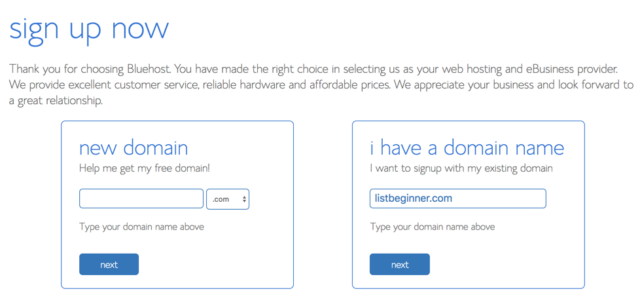 If you are not using the free domain from Bluehost and you're instead using a domain from a separate domain registrar like GoDaddy, you'll need to log into GoDaddy and manually set your name servers to NS1.BLUEHOST.COM and NS2.BLUEHOST.COM. To do this, just find your domain in your domain list and click the nameservers field and change the nameservers over.

Step 3: Enter your info and select the package
After you enter your domain name, you'll need to put in your personal information, select the package information and enter your payment method: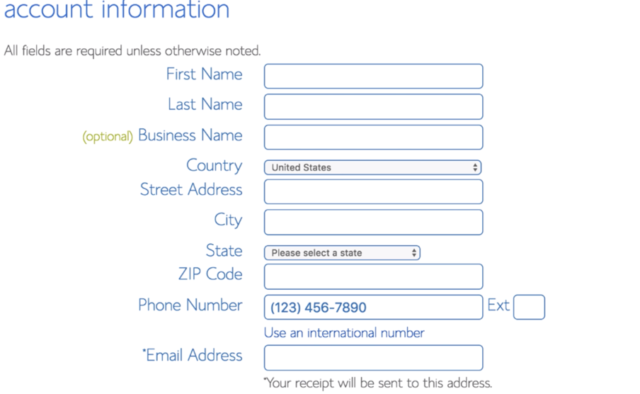 If you want to minimize your upfront expenses, select the 12-month package. Your monthly rate will be $7.95 per month which still comes out to less than $100 for 1 year of hosting. If you go with the 3-year package, your monthly rate will be $5.95 per month and you'll end up just over $200.

You'll be offered some package extras as well, but I skipped these because I can add them later if I need them. When you're done entering your payment information you'll move onto the next step.
Step 4: Create your password
The password you create here will allow you to access your Bluehost control panel where you can see all of the websites that you've created.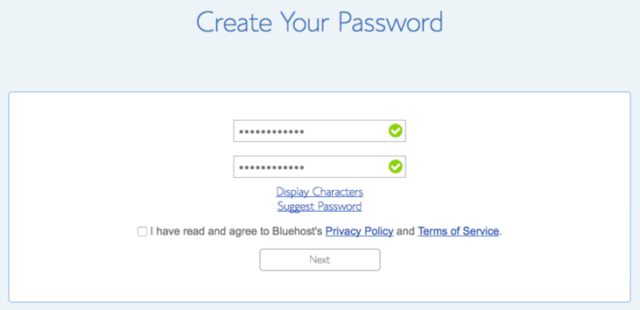 Step 5: Select a WordPress theme (optional)
Selecting a WordPress theme is optional and in my case, I skipped this step because you can always go back and select a theme later.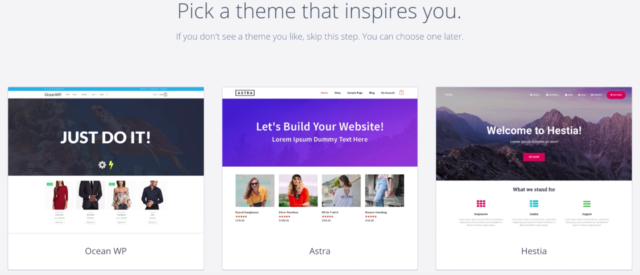 Step 6: Start using WordPress
When you finish picking a theme or skipping that step, your WordPress installation is complete.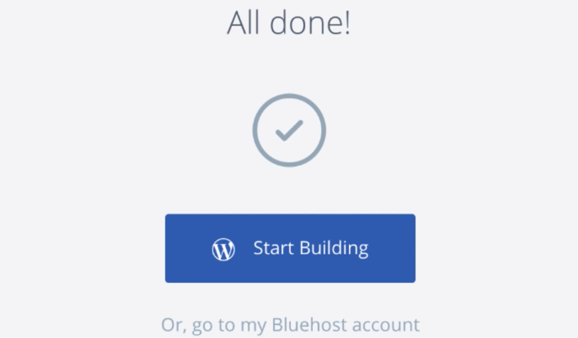 Clicking the start building link will take you to your WordPress admin dashboard which will look like this: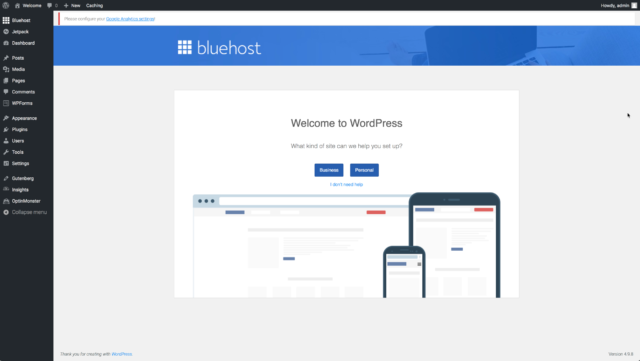 I selected that I don't need any help which then lets me see the WordPress admin dashboard: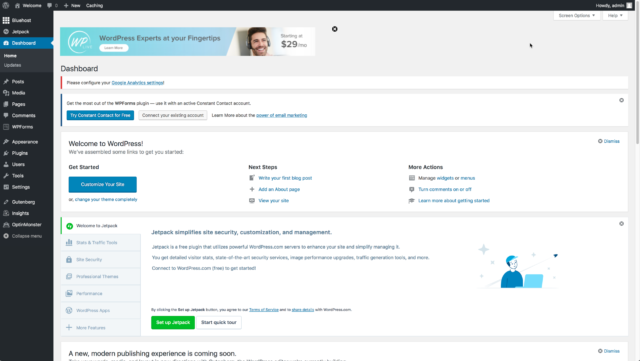 Step 7: Set your domain as secure (optional but recommended)
If you selected the "choice plus" plan then you get one free SSL certificate included with your package. This should be on by default and I recommend using an SSL certificate for a few reasons. If you have an SSL cert installed on your website, Google Chrome lists your website as secure:

If you don't have an SSL cert installed on your website, then Google Chrome will show that your website is not secure:

Having an SSL cert is also a Google ranking factor.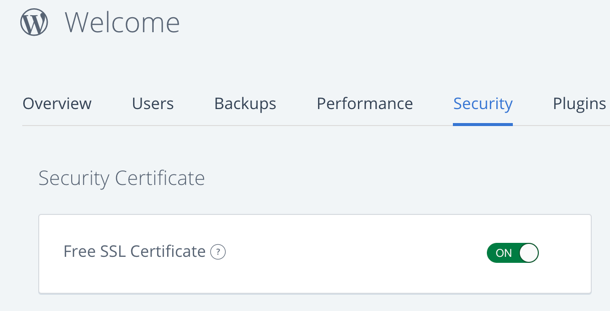 That's it! It takes about 5 minutes to get started on Bluehost.
Click here to start your blog.
How do you make money from a blog?
Now that you've created your WordPress blog, how are you going to make money? During your niche research process, you've probably already got a general sense of how other websites in your space are competing and it's easy to start with one of those strategies first.
Typically you can make money from a blog using one of four different ways:
1. Advertising e.g. Google Adsense

The easiest, but not necessarily the best, monetization method for bloggers is Google Adsense. The premise is very simple, advertisers bid for placements and as the publisher, you earn money from each click. What you can be paid per click will vary dramatically depending on your niche. I've had websites in more lucrative niches earn 10x what I make with another website that has comparable traffic levels.
How do you know if a niche is lucrative? You can search Google Adwords to get a sense for what advertisers pay for keywords related to your niche. The more they pay, the more likely you'll be to earn more money in your niche.
Look at the bid prices on "credit cards" at $7.14 to $17.14:

Look at the bid prices on "celebrity news" at $.02 to $2.00:

Note: The most lucrative niches are typically the most competitive, so keep that in mind when you're planning out your blog as well.
I've picked an extreme example here, but you can search this information easily in the Google Adwords keyword planner.
My very first check online came from Google Adsense way back in 2008 after I crossed the $100 threshold to receive my first check. I still make money from Google Adsense today, but other monetization methods provide me with more earnings. The process is as simple as applying for Google Adsense and once you're approved, you pick out the size of ad units you want to use and put the code on your website. That's it.
Placing your ads where visitors are most likely to look will give you the best results as people will be more likely to click those ads. When you get enough traffic (typically ~10,000+ unique visitors per month), you can use other CPC advertising networks to help place advertisements on your website for you. Sometimes you can earn more this way.
2. Affiliate marketing e.g. Amazon Associates
Affiliate marketing is very simple. You refer visitors to a specific product or service and you're paid when the visitor takes an action that the affiliate program will pay you money for. Typically you'll get paid a percentage of the sale when someone clicks your link and goes on to make a purchase on your website, but you can also be paid for things like referring someone to sign up for a website and entering their name and email address. There are numerous ways you can make money as an affiliate.
e.g. I've made a lot of money from the Amazon Associates program over the years:
Read my 20 tips on how to make money from Amazon Associates here.
Amazon's affiliate program is very simple. Refer people to Amazon and if they buy something in the next 24 hours, you'll earn a commission on that sale based on the category the product is sold in.
3. E-commerce e.g. Selling on Amazon
Selling physical products can be incredibly lucrative and one of the most common ways people get started in e-commerce today is by selling physical products on Amazon. We've got a brand that is currently doing six figures per month in revenue but five figures per month in profit. Check out this video where I talk about how to sell over $1 million on Amazon:
How does selling physical products relate to blogging? If you can build an audience and generate traffic for your blog, you can also develop physical products to sell to your audience. The best part is that if you're generating free traffic from the content you create on your blog you've got a marketing channel for launching your physical products that most other competitors on Amazon simply aren't going to have.
Selling on Amazon is one great channel, but you can also build your own Shopify store to sell physical products there as well.
4. Digital products e.g. Software or courses
I've generated millions of dollars in revenue from selling digital products over the years with the vast majority of those earnings coming from software I helped to co-create. I've also built information products and sold courses as well. The best part about blogging is the ability to build an audience and when you have an audience it makes things a lot easier.
e.g. The very first software product I co-created back in 2011 is a WordPress plugin called EasyAzon which makes it easier for you to create Amazon affiliate links inside WordPress. We have over 10,000+ websites still using the plugin today.

In the case of EasyAzon, I marketed the software to the audience I built here on UpFuel.
The possibilities for digital products are endless and you can really start with something as simple as a $9 eBook if you really want to. If you can build an audience and find the problems that the members of your audience have and they're willing to pay you to help provide a solution, you can create and sell a successful digital product whether it's information or software.
How do you select a monetization method?
Every niche is different, but the best part about the four most common monetization methods I shared is that you can incorporate all of them in your blog if you want to. The key is to get to know the problems your audience are facing and to solve those problems. Your strategy can be as simple as creating more content that helps your audience and earning money via advertising from the traffic that you receive or you could dive deeper and create a full-fledged information course.
Don't get caught up worrying about how you're going to make money from your blog until you've launched it.
Start your WordPress blog today with Bluehost – Click Here.
See my completed website:
I created ListBeginner.com for the purposes of this guide. I'm in the process of building this website into a resource for people that want to get started building an email list but my strategy for monetizing this website is affiliate marketing. When someone visits the website and signs up for an email marketing solution I'll earn a commission for referring that person.
Building an email list can be an incredibly powerful asset in your business. I've been actively adding email subscribers to my list since April 2009 and I can trace well over a million dollars in revenue back to my email list.
I will eventually create some more content for ListBeginner.com along with a mini-course, but I'll be sure to keep you posted on what the earnings look like for this website.
Subscribe to my YouTube channel to see future updates about my earnings.
Ready to start?
Don't give up before you get started. You're guaranteed to fail if you never start.
Even 11 years after I got started, blogging is still a great way to get started online and you'll risk less than $100 to get started.
Click here to sign up for Bluehost.