I was fired from my day job on Oct 13th 2009 and for the weeks that followed I was very stressed out and tried to find a new job (see my full story). A few weeks later I decided that it was a blessing in disguise and decided to pursue my online business full time. 2010 was my first full year as a self employed internet entrepreneur and I've already covered how well I met my goals for the year. Today I want to share specific information about the money I made from the year:
2010 Income Report Breakdown: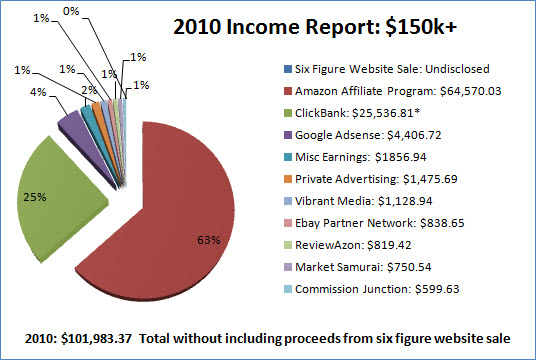 Note: All earnings are based on the money that actually came into my bank account during the 2010 year. *Clickbank is the exception where about half of the money I earned with them came in early Jan 2011 but was earned during 2010.
Six Figure Website Deal: Undisclosed Sum
I sold one of my larger blogs: Netbook Reviews in a deal worth six figures. I outlined specific details in my post about how to sell a website for a lot of money. I can't disclose the money I was paid other than to say that the website sale in conjunction with the earnings from the rest of my business surpassed my 2010 income target of earning over $150,000.
Amazon Affiliate Program: $64,570.03

Amazon was the largest (disclosed) income source for me this year. Most people are generally surprised by the money I'm making with them but it's important to keep in mind that my business is based on making money with niche and authority style websites outside the industry that this blog is focused on (web entrepreneurship). In other words, Amazon would perform terribly on this blog because my readers aren't looking to buy stuff on Amazon, but if I run a blog about some niche product it's a much better fit to make money with. Check out this article and sign up for my newsletter to learn more about how I make money with Amazon.
ClickBank: $25,536.81

Clickbank was the next highest income source and the bulk of the money I earned came from sales of my niche website training program: Niche Profit Course. We just hit the 500 member mark and overall I think it was a pretty successful product for my first try. I have two other products with Clickbank that have also been fairly successful as well contributing a few thousand dollars of that total income. In addition to my own products I've also promoted other Clickbank products as an affiliate which contributed to the total amount I earned with Clickbank as well.
I'm going to do more products in random niches outside of the make money online / blogging realm because I've found tons of opportunities there and product creation can be a lot of fun.
Google Adsense: $4,406.72

I don't actively use Adsense and in fact I only put it on some of my niche sites as an afterthought in less optimal locations. I may start to use more Adsense in the future, but I'm not going to force it if it doesn't make me the most money. One of the main things you need to learn is to find the right monetization method that fits your niche and sometimes it can be Adsense but it rarely is the best solution for the niches I operate in.
Misc Earnings: $1,856.94
These earnings came from anything that didn't make me more than $500 in 2010 which includes some of the products I promoted as an affiliate in only a small capacity. i.e. WP Auctions, OIO Publisher, Woo Themes, SEO Book etc.
Private Advertising: $1,475.69
I sold some private advertising deals via some of my websites, but this was a money making method I simply didn't put enough effort into. It's a lot of work to find paying advertisers and it's not something I really enjoy, I may consider using third party systems to attract advertisers automatically but that's something I'll figure out at a later date.
Vibrant Media: $1,128.94

Vibrant Media became my in text advertiser of choice after conducting a few experiments comparing them against the competition. Kontera came in second and Infolinks was a distant third. If you implement in text advertising be sure to monitor your other income sources to make sure they don't dip as in text advertising could cannibalize your other money making methods. This isn't something I found to be the case during my testing, but it's something you should be aware of as a possibility.
eBay Partner Network: $838.65

I used ePN on only a handful of my websites and only in a skyscraper ad in the sidebar. That sidebar ad generally performed better than Adsense so I'd still recommend you consider using them on your websites. I use the PHPbay plugin to display the ads easily and it was a really good purchase that I made nearly 2 years ago and something that is constantly updated.
ReviewAzon: $819.42
ReviewAzon is a WordPress plugin that makes it incredibly easier to add and insert Amazon products and links on your WordPress powered websites. I did a webinar with the plugin creator in late December which you can watch a replay of here. He also offered a discount on the plugin which you can still take advantage of here. If you're looking to save some time creating your niche Amazon websites this plugin helps out a ton. The $819.42 I earned was as an affiliate promoting the plugin, but I was a customer first that's how I even heard of the plugin.
Market Samurai: $750.54

Market Samurai is keyword research software that I bought and have recommended on this blog a few times. You can download a free trial of it here to check it out. The $750.54 I earned was as an affiliate promoting the software, but just like ReviewAzon I was a customer first before I began recommending this on my blog.
Commission Junction: $599.63

I promoted a few random products and services from CJ.com via my other niche websites and earned a few hundred dollars with them. I really hate CJ.com because it's impossible to create the links I want to quickly and overall it's just a pain to work with so the only reason I made money with them is because some companies I wanted to work with have their affiliate program through them.
Overall Earnings Assessment:
I made just over $100k on the various income sources mentioned above without taking into consideration the six figure website deal that came through in November. I'm very pleased with the money I made because I surpassed my 2010 income target of earning $150k. This was not an easy goal to accomplish considering 2010 was my first full year in business by myself after losing my $60k per year high stress sales job.
I truly believe it's possible to make a full time income online if you really have the drive to put in the extra hours after coming home from your full time day job. Remember, there are no push button solutions to making money online despite what you read on some hyped up sales page. Even with my Niche Profit Course where I teach people how to make money with physical product focused websites I flat out tell people that you have to work to make this successful.
My Halo Story: I've shared before how my passion for the video game Halo is what helped lead me to a six figure online income. Beyond that, there are plenty of odd stories of people finding their way to online success, the important thing is to just start somewhere!
My Plans For 2011:
Buying and Selling Websites: I've been making good money with buying and selling websites like the one I sold in the deal worth six figures and I'm going to do more of this in 2011.
Creating More Websites From Scratch: I'm going to continue building more websites from scratch to further grow my earnings from Amazon Associates and other affiliate programs.
More Info Products: I'm going to create more information products in niches outside of the saturated make money online space. There is a lot of money to be made in these fringe niches that people lose sight on.
Grow My Blog: In 2011 I want to take this blog to the next level and truly build it up into a great resource so you can learn how to quit your day job (or at least be ok if you get fired like me :D). I'd like to hit 20,000 RSS readers by the end of 2011 and I certainly think it's possible because I started 2010 with only a few hundred RSS readers and made it to nearly 5,000.
Internet Startup: I'm launching a self funded internet startup and am currently in the process of hiring a few people to help out with it. When the project is ready for beta I'll send out an email to everyone to try it out. I'm shooting for an April time frame to complete this. After the beta version is out I may try and raise funding, but I just don't want to go to an investor with only an idea to try to raise money for something that I'm not willing to risk a lot of my own capital on in the first place.
I have several exciting things planned so be sure to subscribe to my newsletter to stay in touch.
How was your 2010 year?