UPDATE: May 11th, 2017
The Amazon Associates program was my top earner last year and while I'm in the process of looking forward to achieving new goals in 2010 after getting fired from my job in 2009, I wanted to take some time to share my absolute best tips on how to make more money with Amazon.com's affiliate program as we move into the new year. This list will be different than any other list you've read because to compose this list I used over 40 different tracking codes across the wide range of blogs, websites and forums I run to conclusively test what tactics worked best. So not only will these tips help you earn more money, I can also share specific figures as to how well each tip helped contribute to my $41,438.42 earned in 2009.
BONUS: Want to learn everything I know about being an Amazon Affiliate in 2017?
Click here to download my ultimate Amazon Affiliate Course, along with EasyAzon Core for free.


This will be a 2 part post. The next post will cover the least effective ways to make money with Amazon Associates, so be sure to subscribe to my RSS feed (or RSS email) and follow me on Twitter to avoid the common mistakes.
1. Use multiple Amazon tracking ID's
If you are using only one Amazon tracking ID for each website you're running, you're still making a huge mistake and this is a mistake I've seen perpetrated across a vast array of websites. You absolutely need to use multiple tracking ID's for every single website you run so that you know what is working and what isn't. Part of why I believe so strongly that this list will be a valuable resource for you is simply because of the fact that I used so many tracking codes during the course of 2009 that I was able to determine exactly what tactics pays out the best and what pays out the worst. In fact, I wouldn't feel comfortable writing an Amazon tips list without showing proof that my tips do in fact work. The tips I'm sharing may work better for me than they will for you which is precisely why you should not only try what I'm suggesting, but you should also test it with multiple tracking ID's too (Once inside your Amazon account you can create additional tracking ids here).
Please click the continue reading button for more tips after the break.
2. Bestseller Lists: 15% of total earnings
The bestseller list post has been one of the top posts I run on a monthly basis for almost all of my various blogs and forums. I simply write about the bestselling products within the niche of the blogs I run. I only do it once per month so it doesn't upset users looking for unique content. Bestseller lists are a form of social proof and they are incredibly strong at convincing people what to buy, which is precisely why Amazon uses them so extensively on their own website. People on the fence of a purchase decision use what others are buying to help make their decision. If you can't find a bestseller category for the niche your website is focused on, then it's time to expand your niche. See all bestseller list categories here
and yes of course that is an Amazon affiliate link. You'll see several opportunities throughout this post to thank me for sharing my knowledge by purchasing something on Amazon.com through one of my links that you already planned on doing. Besides, I wouldn't be practicing what I teach if I didn't link to Amazon.com with several affiliate links while I'm discussing how to make more money with them right? This leads me onto my next point and most profitable tip.
3. Focus on in content affiliate linking: 45% of total earnings
The biggest chunk of money I earned was by linking to products inside the actual blog posts I was writing about. Say for example I was discussing a new product that was now available to pre-order. First I would link to it because it was available for pre-order with no mention of the price. Then I'd show an image and use an affiliate link for that (more on images in the later tips). Then after the image I'd share a few of the products specs but then use an affiliate link titled something like "see full specs" and then if there were other colors I'd link to each one of those individually. Finally, I would end the post with a statement to pre-order it and at what price it was available to purchase at. This is just an example of what I would do for a hot product that finally became available to pre-order, but as you can tell I've created several opportunities that have hopefully piqued the interest of a potential buyer to click the link and find out more about the product. By leaving out less information about the product in the first place it creates a feeling that the user should just click now to see more about the product rather than finish reading the article. If you get them onto Amazon's website then you're in a very good position because now you get a commission on ANY product that they purchase on the website – not just the one they clicked through on your website.
4. Simply get visitors onto Amazon.com:
Yes the cookie length for Amazon.com is fairly short at only 24 hours, but Amazon spends incredible amounts of money on testing their website and improving their ability to converting people browsing for products into customers. It's worth mentioning that I exported my chart of affiliate earnings by product category and only 1,367 of the 3,953 items that shipped through my affiliate links during 2009 were from product categories within the main niches for each of the blogs and websites that I run. Granted, the dollar sum of these items amounted to most of the earnings to the tune of 75%, but by getting people onto Amazon.com and shipping an extra 2,000+ items over the course of the year helped to put me into higher earnings tiers which in turn gave me more money overall.
Once a higher referral fee is achieved within the calendar month, the higher referral fee rate will apply to all Qualifying Revenues earned from Qualifying Product units sold by us during sessions initiated through Special Links on your site during that calendar month, including units sold before the new tier was reached."
– Amazon Associates Operating Agreement
In other words, every time you hit a new referral tier it should be accompanied by a resounding boo yah because you just made an extra .5% (or .25% if you're up near the top tier) on all of the products you've already sold during the month. It's safe to assume 20% of the income I generated came from items people simply bought because they were about to buy them anyway and I was the guy that got them onto Amazon's website.
5. Make images clickable affiliate links: 13.8% of total earnings
This tip is what I consider to be the most obvious one, but for some reason I still see blogs that discuss a product and include an image but don't make the image an affiliate link that takes the visitor to that product. If you are already linking to products on Amazon and including images of them but not making the images an affiliate link – make the change now! To lean on my first point, use a new tracking code just to test how well the image affiliate links perform and I can assure you that you'll see some improved earnings.
6. Use Buy Now image buttons: 5% of total earnings
If you're discussing a product that is related to your blog and you're already linking to it several times within the body of the post as I suggest in tip 3 and using the image as a link in tip 4 then you may as well include a button to buy now.
i.e. Amazon style:

I suggest you test the placement to see what works best, but where I like to use mine is in the upper left hand corner of the post just under the blog post title. You can also use a little thumbnail image of the product just above that as well.
7. Focus heavily on shopping time periods:
If there is one time of the year that everybody shops it's November and December. Thank you marketers for Black Friday, Cyber Monday, Free shipping day, Boxing Day (yah what's up Canada), you name it. If you are not telling your readers about good deals for products related to your niche during these times of the year then you are missing out on a huge money making opportunity AND doing them a disservice. I spent hours finding and creating my deal posts with genuinely great prices on products I know are good. Thanks to that effort I made back to back income records with Amazon.com's affiliate program and numerous personal emails from people thanking me for finding them a good deal. I can assure you that if there is one time that you should embrace your hunger to make more money on the internet it is during the holidays. (Yes I recognize how terrible that sounds, but it's true)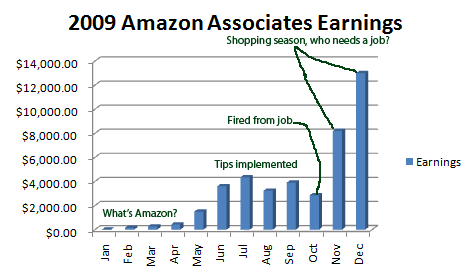 I hope these tips help you out and I would encourage you to share your comments below. My next post will cover the least effective ways to make money with Amazon Associates and you won't want to miss it. Subscribe to my RSS feed (or RSS email) and follow me on Twitter
Bonus Tip. Save time creating Amazon affiliate links with EasyAzon:

I had a WordPress plugin created to help me make it easier to build high conversion Amazon affiliate links along with all of the features I wanted in an Amazon plugin that no one else was doing and the end result was the EasyAzon plugin. Check it out if you're looking to make more money and spend less time creating Amazon affiliate links:
BONUS: Want to learn everything I know about being an Amazon Affiliate in 2015?
Click here to download my ultimate Amazon Affiliate Course, along with EasyAzon Core for free.