Note: This review is not paid for. Just my honest opinion of the intext advertising solution provided by Kontera.
This is Part 3 in my case study on in text advertising. Be sure to InfoLinks Review for Part 1 and my Vibrant Media Review from Part 2.
Kontera is the third in text advertising solution I've tested out with InfoLinks and Vibrant Media being the previous two. Kontera is a company I covered way back in 2008 but I was running the ads on a different website. A lot can change in 2 years so I wanted to try them out again. The data below is from the same website that I ran InfoLinks and Vibrant Media on in the previous two case studies so that I could show an apples to apples data comparison between the in text advertising solutions.
Income Results for 10 Days:

Yes you read that heading right. I ran the ads from Kontera for only 10 days and you can see why below:

Yah, that isn't a misprint. From 177 clicks I earned only $4.38! It's laughable how bad that is. After discovering how well Vibrant Media was performing on my test technology blog I had to stop the test short with only 10 days of data and switch back to them. Funny enough when I switched the ad code back to Vibrant Media in the afternoon on April 12th I still earned $5.48! I earned more money from an afternoon with Vibrant Media than I did over a 10 day period with Kontera. Of the three in text advertising solutions I've tested out Kontera has performed the worst.
Kontera Ad Targeting: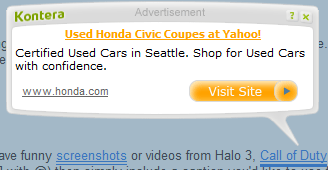 Kontera's ad targeting is very similar to InfoLinks – terrible. Although I never found any missing images (I couldn't find any with images either) I saw numerous completely irrelevant ads. Just look at the one above where 'Call of Duty' serves an advertisement for used Honda Civic Coupes – wtf? This was just one of many perfect examples of terrible ad results.
Wrap Up:
Kontera is so bad I'm not even going to suggest you try them out. It's astonishing just how bad they are. I don't know how else I can convey how terrible they are than by restating how bad they are three times in a row. Of the three in text advertising solutions I've tested out so far Kontera earned the least which is the most important factor in my mind. The next key factor is ad relevance / targeting which they are about on par with Infolinks, but meanwhile Vibrant Media is way ahead of the other two providers in this area and income earning potential.
In my past reviews I suggested that you test out each provider to see what works best for you, but with Kontera I suggest you don't waste the time. If you do try them only run their ads for a week at most. Perhaps they'll work better for you, but in my case they were the worst of all. No wonder they have the best affiliate program of the three solutions.
If after reading this review you still want to try out their in text advertising solution you can do so by visiting Kontera.com to sign up.
(Yah, I'm going to make you type that into the browser yourself)
UPDATE 5/2/2010: A Kontera rep contacted me and he's told me that the results I've seen below are skewed because my website was not receiving ads from their premium partners due to a technical error. I've agreed to retest their solution and in the past few days I'm seeing much higher revenues (better than Infolinks but still lower than Vibrant). There is not enough data for a conclusive decision but I will post an updated review at a later date.
I've got data from another network I want to share as the fourth and final part of this case study, but their code is causing issues with the free WordPress theme I'm using on my test technology blog so there is a chance I may have to leave them out. If you like seeing more real life case studies from someone earning a living online than you should subscribe to my blog.
Has anyone had better luck with Kontera than me? Are there any other in text advertising solutions I should document on this blog that I may have missed?