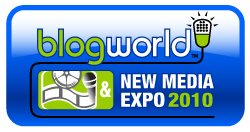 I went to this year's Blog World Expo and the overall trip cost was around $1,000 so although it's not the $6,494.03 that Elite Retreat cost me last year or the free price of SMX Advanced it is still a significant amount of money, so the question becomes – was it worth it?

The short answer is yes, but let me explain why
The Sessions:
I only attended 3 or 4 sessions during the 5 days I was in Vegas and I'll be honest – I didn't learn that much. I believe this is because Blog World has more content focused on people that have the passion for blogging but need help with the business end of things. This is exactly why I spent most of my time meeting people instead.
Who I Met At Blog World:
There are numerous advantages of networking in person and that's why I spent most of my time meeting new people and building relationships that previously existed only in online form.
Here's who I met in person:
David Risley, Darren Rowse, Daniel Scocco, Jonathan Volk, Pat Flynn, Chris Garrett, Naomi Dunford, Chris Pearson, Dave Navarro, Jade Craven, Jordan Cooper, Leo Babauta, Nathan Hangen, Lisa Morosky, Annabel Candy, Jim Kukral, Corbett Barr, Mary Jaksch, Matt Gartland,
Erica Douglass, Sid Savara, Srinivas Rao, Adam Baker, Johnny B Truant, Ryan Gray, DK, Eric Schechter, Jacob Gall, James Seligman, Logan Thompson, Maren Kate, Tammy Camp and Nadia Giosia
Yah – those are just the ones I remembered to write down.
Why Blog World Was Worth It:
I met dozens of people nearly all of whom I could work with in some capacity – even if it's just to help their children to improve their Halo: Reach skills – I'm looking at you Leo. The people I listed above are those that I had lengthy conversations with and not just people I said hello to (if I included those people as well the list would grow even larger). It was great to finally meet so many people that I've talked with online or had read their blog years before I was able to earn a living online (like Darren).
My opinion? If you decide to go to Blog World next year don't fill your schedule with too many sessions. Instead be sure to make time to have as many meaningful conversations with new people as possible.
Upcoming: As I alluded to earlier, things are about to drastically change here on this blog so please stay tuned. It's going to be awesome and better yet you're going to learn some amazing actionable tactics for earning money online.