I've just finished up my latest project that I've very excited about, it's called EasyAzon and it's an Amazon affiliate link creation, money making, time saving, WordPress plugin.
What Makes It Awesome:
1. Build Amazon affiliate links without ever leaving your WordPress dashboard:
It's so much faster to build affiliate links this way. I can add various affiliate links in literally seconds.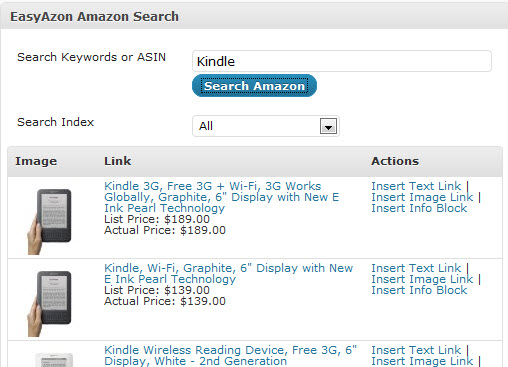 2. Create high conversion affiliate links that are Text, Images or a Product Information Block way faster than the old slow manual way:
Text Link Example:
Buy The Kindle So I Can Make More Money Image Affiliate Link Example:
Product Information Block:
You can also left align, right align, center align or choose no alignment for the image and information block so that's really easy to fit your Amazon affiliate links nicely into your content.
3. Have International Traffic? (Rhetorical question of the day – duh, we all do) EasyAzon allows you to monetize that existing traffic you're wasting with link localization:
Example: A UK visitor will see an Amazon.co.uk affiliate link and a US visitor will see an Amazon.com affiliate link
In the past you'd lose out on a potential commission from other huge markets like the UK if you built your links manually through Amazon (like I used to do before I built this plugin). This automatically changes for most products on Amazon (obviously if a product isn't sold on the UK version or it's different in some way the affiliate link will stay the same)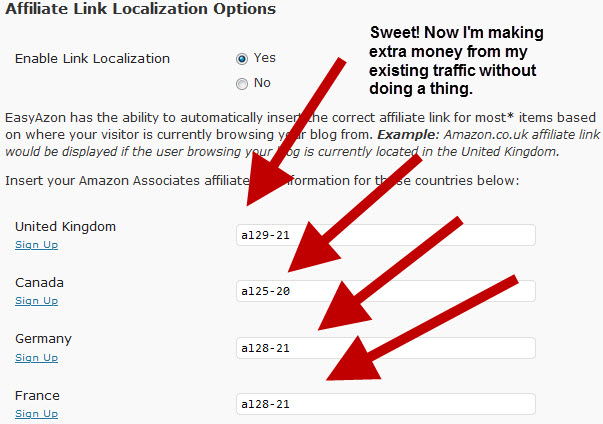 4. Have any contract writers or run a multi author blog? Well, now you don't have to give them access to your Amazon account to allow them to build affiliate links.

If you want to have any of your content writers or other authors add Amazon affiliate links to your blog then at the same time you are enabling them to see how much money you're making. Do you really want your writer knowing you're making $5,000 a month off some blog and you're only paying them $10 a post?
Should You Buy EasyAzon?
Do you like making more money from your existing traffic? If yes = buy
Do you like getting work done faster? If yes = buy
Do you have any paid writers for your WordPress blog(s)? If yes = buy
Do you like paying only less than $50 to get all this awesome stuff? If yes = buy
Do you like to use your plugins on unlimited blogs? If yes = buy
Do you like to buy products before their price goes up but still get free access to all of the future updates? If yes = buy
I built this plugin to be awesome by helping you save time and make more money with Amazon and I feel like I've accomplished that. The features found in this plugin are based on what I wanted to see after learning a ton of stuff about what works most on my way towards earning nearly $100k in Amazon commissions. Hope you enjoy it and feel free to leave any comments or questions below.
p.s As with anything I sell, there is a no risk 60 day refund policy
p.s.s. Hope you realize I was joking around with the obvious question asking. Thought it'd be funny as I sit while writing this blog post at 5:00 AM (need to sleep soon). But really though this software is awesome and I hope you enjoy it!