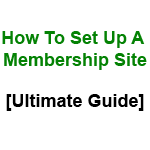 I've had several emails from readers of my blog and even a few customers of Niche Profit Course that wanted to know how I set everything up for my membership site. Niche Profit Course is not a monthly membership site; however, the software I'm using has that functionality built in so if you're just looking for a great content distribution platform for either a membership site or a one time payment what I'm using works very well and best of all it's based on WordPress.
Behind The Scenes Membership Site Walk-through:


Update: I use Optimize Press now for every membership site like this
As you just saw in the video I was going over my latest information product – Become A Pro Gamer. If you're been reading my blog for any amount of time now, you'll know I'm a huge gamer and even used Halo to kick start my business online and set me towards the path of a six figure income. This product is a training course designed to improve your skills in Halo, but since this blog post isn't about teaching you how to pick a topic let's move onto the software and why I'm using it.
Software Mentioned In The Video:
WordPress
I love WordPress, there is a ton of support and a whole slew of 3rd party plugins and software to enhance the functionality of the content management system. Using WordPress as my free base instead of some costly monthly subscription platform *cough – Kajabi* I can control my customer information and content (instead of losing it forever if I ever stopped paying) and any problems that come up generally easy to solve with the help of others.
Squeeze Theme $97
I use the Squeeze Theme because it has a lot of pre built options to create sales pages with a good layout etc. You could probably get by with a free theme and customizing it heavily, but I'm a big fan of focusing on what I do best and paying for anything else so that's why I went with the Squeeze Theme.
See more about Squeeze Theme here
Wishlist Member $97 for one site – $297 for unlimited sites
This software works with WordPress and handles the users that pay for your product or course. It works with WordPress to handle the protection of your content; however, this is only one way to protect content. If you want a second layer of protection you should consider S3 Flow Sheild
See more about Wishlist Member here
S3 Flow Shield $97 unlimited sites
This is the software that helps prevent people from easily downloading content hosted on Amazon S3. My products so far have all used video so I knew that I needed some way to make piracy a little more difficult. This plugin makes it impossible for an existing member to share the links to your videos for others to download.
See more about S3 Flow Shield here
Clickbank $49 vendor account activation fee ($29 for your next product)
You'll need a way to accept payment, and although Wishlist member supports Paypal, 1ShoppingCart and some others I wanted something that helped to get more affiliates which is why I'd also recommend this other piece of software…
Set up a Vendor Account at Clickbank here
Easy Click Mate $67
This is a 3rd party affiliate tracking software for use with Clickbank. Basically you can set up an affiliate page like this one and then when the affiliates sign up they're added to your affiliate email list. People always say the money is in the list and the same can be said about your list of affiliates. Without this software it's basically impossible to communicate with affiliates.
See more about Easy Click Mate here
JW Player
Whenever you're selling a product that uses a flash player you're supposed to pay for a license and so I did that here. There are probably some other flash players that would work, but I liked the analytic options this one offered.
Why This Solution Is Awesome: One Time Cost
The entire software solution I use cost me a little over $500 for everything (including the $297 multi site license for Wishlist member) but it's important to point out that this is a ONE TIME FEE for UNLIMITED USE and I'll never need to buy another piece of software again. People underestimate just how important it is to own the data on your platform and the content your product uses outright (*cough Kajabi*). Niche Profit Course was the first product I created and Become A Pro Gamer was the second. My second product cost me only $29 because everything was already paid for. Call it "duct tape marketing", but it works very well for me and it's relatively inexpensive.
I plan to do more products in the future outside the internet marketing niche (I love the lack of competition) and if I continue to use Clickbank I'll only have to pay $29 for each new vendor account I activate.
Questions about my setup? Ask below I'd be happy to help!
Note: If you want to do a similar solution like I have above but are on a tight budget, just look at the functionality I've posted above and perhaps you may not need it (i.e. S3 Flow Player isn't really necessary unless you're using video).