In late November, I wrote a quick blog post to give you some tips on how to make money from holiday shoppers. Now as a follow up to the tips I shared I will show you the income results from one of my websites during the Black Friday, Cyber Monday and overall holiday shopping rush. I created the website earlier this year, but I won't be disclosing the URL in this blog post (see why I don't disclose all of my websites here). In any case, let's jump into the earnings and then I can explain what helped me accomplish those earnings:
7 Day Holiday Shopping Earnings For One Website:
Google Adsense: $666.74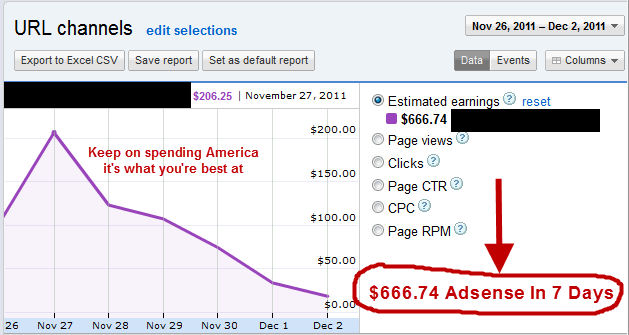 Amazon Associates: $326.21

I also made a few hundred dollars from other merchants as well
Overall 7 Day Earnings For One Website: Roughly $1,200
Boo Yah! Thank you for shopping America.
How Did I Maximize My Earnings For This Website?
Let me cover some of the specific things I did for these earnings:
Writing Content To Target Seasonal Shopping Keywords:
The first thing I did was write Black Friday, Cyber Monday etc. deal style posts using my standard keyword style i.e. "Cyber Monday -My Niche- Sales" and every time these types of posts cause huge spikes in traffic to my various websites. Millions of people every year search exactly in this manner of "Cyber Monday -Some Niche- Sales" and the first strategy was to write content targeting those keywords.
Result: Gave me traffic spikes and earning spikes on those days.
Monetize The Content Very Well:
This year more and more retailers were doing deals every single day from before Black Friday began, through Cyber Monday and now they're still doing them every day all the way up to Christmas. I noticed this trend last year and so moving into 2011 my goal was to increase my income from other sources which includes Google Adsense and other affiliate programs like Linkshare and Commission Junction across the board.
Using More Affiliate Programs:
I more heavily promoted Wal-Mart (who had some really good online deals this holiday season), Buy.com and a few other large merchants besides just Amazon.com through Linkshare and Commission Junction. This helped give an extra few hundred dollars for the month.
Google Adsense Strategy:
For Adsense I went for an inline Adsense approach instead of just using out of the way banners (this is a pretty obvious step of course, but normally I'm much more focused on going after the affiliate commissions). The Adsense ad titles and URL's matched my regular site navigation link color and I left the text of the ad black. I trailed all content with Adsense ads as well which is something I've since done on every site I own. The idea is that if people don't find what they're looking for after looking through the content the next natural step is to click a link to leave. In this case, the first link they see next being an Adsense ad.
Amazon Associates Strategy:
For Amazon I just focused on linking to products within my niche that were on sale for the entire black friday / cyber monday deals week time period. I didn't spend a bunch of time focusing on the lightning deals this year because I noticed those products were selling out far too fast to do any heavy affiliate promotion of them. You can see more tips on how to make money with Amazon here.
Email Marketing Strategy:
I sent multiple emails out during this week just linking back to the content that I created above. Email has always been a pretty strong component to making money over the holidays and that's something that I like to do for my larger authority style websites (I don't do a ton of email for my smaller niche sites).
Go Create And Promote Last Minute Shopping Content:
If you missed the boat on Black Friday / Cyber Monday promotion on your websites don't miss the days leading up to Christmas. You can make a lot of money on "Last Minute" style keywords and shoppers for your websites, so make sure you're creating and marketing that last minute content on your website later this month. Let's make December a record month for our website earnings πŸ™'
Don't Own Any Websites?
If you don't own any websites stop reading about all the money I'm making and get started making your own websites. You can sign up for my free course outlining how I make money with websites below this post (or via this link) and that's a great free way for you to learn more about this business – All I ask is that you don't sign up and do nothing with the information I've provided.