I published a podcast earlier this week covering what I learned from 2011 and how I would change in 2012 (you should check it out). Today I wanted to share specifics on my goals for 2012 and what I'm going to do to accomplish them.
My Biggest Change For 2012 That You Should Do As Well:
In 2012 I'm going to keep track of my profit every single month and review mid month how I'm doing to ensure I hit my target numbers. What I learned from 2011 was that I don't do a good job of re-evaluating my goals on a constant basis. In fact, the only time I'd ever look to see how much money I was making was when I had to file my federal estimated quarterly tax payments (once every 3 months). I don't know if I can attribute it to complacency, but I always had plenty of money left over at the end of the month after paying my bills and reinvesting thousands into other projects like software development and website acquisitions so I never really took the time to track everything very closely so this is how I'm going to do it differently:
I'm Using A Project Management Calendar For 2012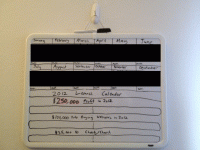 I put up a whiteboard that sits next to one of my monitors with a month by month grid that will help me keep track of when I'm releasing some product, software or even a website (even those completely unrelated to this blog that I don't really discuss). For example, I've had a team working on a really in depth website that I've invested nearly $20,000 and several months of my time into that will be launching later this month. It has nothing to do with earning money online etc. and it is targeted at a much larger demographic than I've ever tried capturing before but I'm tracking it on the calendar. I haven't decided if I'll reveal the website or not but if I do you'll be among the first to hear about it.
The other purpose of the calendar is for me to see a constant visual representation of where I'm at with my goals for the year. Rather than focusing on arbitrary RSS reader numbers and a few of the other things I targeted in 2011 I'm just going to focus on specifically financial targets.
My Three Primary Specific And Measurable Goals For 2012:
Goal 1: $250,000+ Profit In 2012
Every year my goal is to make more money than I did in the previous year and for that increase to be far greater than what I could ever receive working in a normal day job. So far I've been able to do that and I believe if I stick to my schedule and track my various projects very well I should be able to hit $250,000 in profit. I didn't do a bunch of monthly income reports this year because frankly I was a bit complacent and when I wasn't being lazy I was too busy taking action and making money rather than putting together lengthy graphs outlining my performance. If you'd like me to go back to monthly income updates perhaps I can do that. I know $250,000 is a big number and when you read that number I might come off as someone you can't relate to, but I want to remind you that I got my start in this business by working an hour or two every day after work and after getting fired from my day job in 2009 I was already making enough money from my websites to take the plunge and do this full time. So I still know that it's hard work to build up your business but as long as you're putting in some time and working towards your own goal of some additional side income or job replacement income you can do it. I'll do my best to continue to share actionable advice to help you get there.
Goal 2: Buy $100,000+ Worth Of Websites In 2012
I had this goal in 2011 and I fell a little short of it unfortunately, but I still have the capital in my bank account ready to buy the right websites so if you have something earning between $200 – $3,000 profit per month contact me here. In either case, I remain confident that I can hit this goal in 2012 and probably even surpass it if I find a lot of good websites to buy.
Goal 3: Donate At Least $35,000 To Church / Charities
I need to be more regular in my donating / giving so I wanted to tie a specific dollar amount that I'm looking to accomplish. I know it's kind of odd that I'm including this goal in a blog post as most people are pretty private about what they give to charity, but it's on my white board so I guess it's on the blog post lol. Throughout this year I will occasionally release products or software and state in the sales material that (for example) the first $5,000 purchased worth of this software will be going directly to Charity Water. Continuing with charity water as an example, after I would reach that sales figure I'd then make a donation to a Charity Water campaign as well just to prove that I was actually making the donations. You'd have to be pretty evil to say you were going to donate money and not actually do it though.
My Three Pillars Of Business In 2012
I'm going to continue to focus on these three things that I did in 2011, but to not let other opportunities like iPhone applications etc. distract me.
1. Building Websites
2. Buying Websites
3. Software / Information Products
I routinely find pain points while building my business and recognize areas for improvement and I'm going to be doing more awesome software projects in 2012 with the first one up being EasyAzon v2. That plugin is used by well over 1,000 people and the emails I get on a regular basis are really cool. I love helping people save time on a tedious process and make more money at the same time.
Overall Feeling About 2012 – It's Going To Be Awesome
I believe I will easily reach my goals if I stick to my calendar for managing projects and routinely tracking profits every single month. I'm going to focus on continuing to build ever larger assets in 2012 and perhaps I'll have a few more six figure deals to share with you this year as well.
Have you set goals for yourself in 2012? If so what are they?