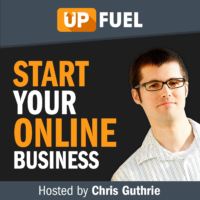 Audio clip: Adobe Flash Player (version 9 or above) is required to play this audio clip. Download the latest version here. You also need to have JavaScript enabled in your browser.
Podcast episode number 16 is now live on iTunes. In this podcast episode I interview Jeremy Schoemaker aka Shoemoney as he is more commonly known online.
In this episode I speak with Jeremy about how he used the platform of his blog to help launch and sell an ad network for millions of dollars. We also discuss his failures as well and how losing focus on some projects cost him millions of dollars. Overall Jeremy is one of the most open entrepreneurs that I know of and this shows through in this podcast episode.
Items Discussed In This Episode:
– How Jeremy built and sold an ad network for millions of dollars
– MMA Junkie blog sells for millions
– Icanhascheezburger founders were inspired to create their websites by Jeremy's $132,994.97 Adsense check
– Everyone Jeremy knows that created a multi million dollar blog did it by focusing on something that they really loved.
– How losing focus on some businesses cost Jeremy millions of dollars on several businesses
– Creating a solution to a problem that you have and that no one else is solving is a great strategy for creating a business
– Jeremy's book: Nothing's Changed But My Change: The ShoeMoney Story
– Jeremy's latest company the PAR Program
– How Jeremy helped blu eCigs drive millions of dollars in additional revenue
– Jeremy's introductory course link for beginners (just under $10)
How To Get The Podcast:
Subscribe to the podcast on iTunes or via RSS to get future episodes automatically
Download the podcast MP3 here (Right Click + Save As)
When You're Done Listening To The Podcast Please Review It
When you're done listening please leave me an honest rating or review on iTunes – I really appreciate it and it helps to get more people to listen to the podcast. Currently each podcast episode receives well over 10,000 downloads and I'd love to get that up to 15,000+ downloads!