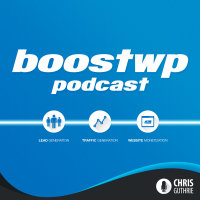 If you are a fan of the my podcast, then chances are you'll enjoy the new BoostWP podcast.
The BoostWP Podcast is not a rebranding of my podcast, which I will keep releasing episodes for.
The focus of the BoostWP Podcast is more closely tied with tactics that support the plugins we create at BoostWP. Our plugins are designed to increase your WordPress powered websites traffic, leads, and sales, so I gear the episodes towards those topics.
Along with the launch of the podcast, we are having a contest to win a year's free subscription to our premium plugins at BoostWP. You can find out how to enter here. 
Even if you don't use BoostWP plugins, the content there will give you strategies to take your website to the next level.
You can view the show in iTunes here. There are links below to the podcast pages on the BoostWP blog.
I launched the podcast with 3 episodes this week:
Episode 1: Nick Ohrn and I sit down and discuss our plans for BoostWP. We discuss our vision for the company, along with what kind of content the podcast will be putting out. This episode is shorter than the others, since it's a simple introduction.
Episode 2: In this one, I interview Jim Wang of MicroBlogger. We discuss the tactics he used to grow a blog that he eventually sold for $3 million dollars. We cover how he first got traffic, to how he began to scale his business to the size it was when he sold it.
Episode 3: For the third episode, I talked with Bjork Ostrom about his and his wife's website, a Pinch of Yum. In a world full of food bloggers, they have found success and get to continue pursing their passion. We cover how they've pulled this off, along with other great tips.
Enter the contest: Click here to enter
Listen to the podcast: You can view the show in iTunes here.