I'm back with another income update from my Amazon business in November 2014 which marks the fourth month that I've been selling physical products on Amazon.com. As a reminder this is just one of the businesses I own (or have a stake in) and so it only represents a small fraction of my actual income.
Missed the other updates? Month #1, Month #2, Month #3.
November 2014 Report:

[yellowbox]BONUS: Click here to access your free video training on how to create a 6 figure plus Amazon FBA business in your spare time.
This step by step guide is the exact formula I've used to create my Amazon business[/yellowbox] I ended the month with total sales of $12,682.95: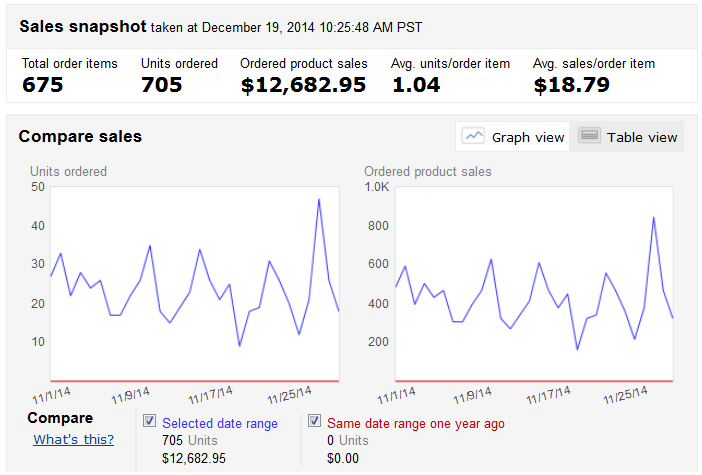 To be completely transparent and for verification purposes I also like to film a quick video walk through of my numbers as well:
You can assume roughly 40 – 50 percent profit margins on that number (after inventory costs, FBA fees, Amazon ad spend etc). So $5k+ in profit on the low end or about $6k+ in profit on the high end.
Why no exact number? Inventory purchases month to month can skew numbers e.g. 30% down payment one month and 70% the next month.
As I like to point out, the 2012 median household income in the US is $51,107 and in my third month I was already on track to surpass that which I've continued in this month.
Surprise: You can make more money as a business owner than as an employee. There is no boss ahead of you which tells you how much money you can or cannot make.
That's why when I hire someone as a full time team member I call them apprentices (not employees). As the expectation is that they will eventually flap their wings and move on to their own business but ideally not before they make me more money first.
Note: I'm looking at hiring another full time apprentice or two in 2015. Look for an announcement on my blog in 2015.
Ongoing Monthly Amazon Charts: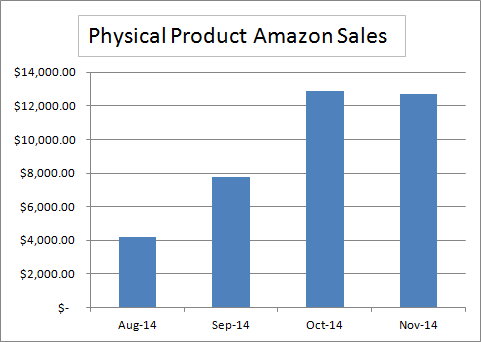 My first sale came on July 28th. To keep it simple I removed July from the chart.
Common Question: How do I actually make money selling physical products on Amazon?
The short answer is that I created my own brand of products to sell on Amazon. I recorded a podcast which provides a great overview of the business model and how it works which you can listen to here. But I got started because podcast 17 guest Brian told me about this business model and how he learned how to do it. I went through the same course he learned from and then took action with the information.
Our coaching group / mastermind are currently closed but we'll open the group again sometime around April 2015 potentially. Waiting list to work with us is here.
Analysis Of November Results
I'm pleased that my sales were consistent, but I did have higher expectations. Part of the problem is I kept my price higher when I probably should have forgone a little profit on a per unit basis to sell more units and make more profit from total volume of sales.
My sales did drop by a few hundred dollars but I'm not concerned (besides I'm writing this after the halfway point in December and already know my "next" month will be better). Overall, I'm confident in my long term plan for this business.
Don't worry so much about month to month, think about the long term.
Successful people have plans in their lives about where they'll be 1 year from now, 3 years from now, 5 years from now, 10 years from now, 20 years from now etc. If you're only thinking about next week or next month you've already lost. Now that you know this – fix it.
My plan for December 2014:
Objective 1: Decide on supplier for future product
I'm making a final decision on my next supplier for a future product over this weekend so that Sunday night when I hop on Skype (Monday morning China time) I'll have made my decision and can place my order.
I'm targeting a release date for this new product before end of January 2015.
Objective 2: Try something to market my product(s) besides relying on Amazon
To this day I've still done no off Amazon marketing. Perhaps I'm a bit lucky and even if I am that's fine, marketing is my primary skill set so I'm not too concerned about execution in this arena when I need to do it.
Need help finding a product or market to target on Amazon?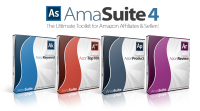 If only there were software tools that could help you with the most crucial part of this business:
Finding the right product to sell
Oh right, we already have them. My email subscribers already had a chance to buy at an early private price but if you weren't on my email list you missed out. Literally better luck next year. They'll open in 2015.
Here's where you can check out a preview though.
If you have any questions, comments or feedback I'd love to hear them.
[yellowbox]
BONUS:
Click here to access your free video training
on how to create a 6 figure plus Amazon FBA business in your spare time.
This step by step guide is the exact formula I've used to create my Amazon business[/yellowbox]