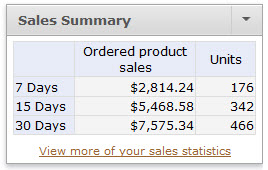 I'm back with another case study update of the product I'm selling on Amazon (read my first update here) and I'm excited to share that in the last 68 days I've sold $12,987.81 worth of this one product.
The best part is that I'm even on target for a $10,000+ month in October which would represent several thousand dollars per month in profit from just one product.
Even better? I've never been to a post office to ship my product. Amazon handles that. Shipping. Refunds. Everything.
What makes this business model most exciting?

[yellowbox]BONUS: Click here to access your free video training on how to create a 6 figure plus Amazon FBA business in your spare time.
This step by step guide is the exact formula I've used to create my Amazon business[/yellowbox] Anyone can do it with no existing customer list, website or platform to leverage from any country in the world.
Example: I've made a ton of money with software products but I don't really talk about it on my blog because it doesn't help you. I primarily leveraged my existing audience and customer base I've been building for the past 5 years. You don't have that advantage.
On the flip side with Amazon I intentionally launched a product in an area that I had no website, email list or platform I could use to give me an edge and yet I've still been able to succeed.
Video Proof: $12,987.81 In Sales On Amazon.com – On Track For $10k+ October
I think I can hit $15k per month with this one product – maybe $20k if I really push it. My strategy is to find relatively low competition products and dominate through superior marketing and customer service.
I could easily do another dozen to two dozen products in this one niche before moving into something else. Sure some may be lower sales numbers but others may be higher.
How do you find low competition products?
There is a manual method of looking through Amazon trying to identify products with a low enough, but not too low, bestseller rank but that's very time consuming and doesn't paint the full picture.
Fortunately for the people that join our group we've been working on a tool (that no one else has) that helps identify these products to make product selection (one of the most important components of this business model) easy for people. Boo freaking yah.
Of course you can always target high competition and go that route but I prefer my strategy.
Would you like help learning how to sell on Amazon?
The mastermind group I run with Brian Leyde (from Podcast 17) is going to open October 16th and close October 24th. The only way into the group is to buy the same course that Brian and I both learned from using our referral link – Amazing Selling Machine (here's a review I posted of the live event portion of the course).
That course provides an in depth step by step process of how to sell on Amazon in 8 weeks and then our private group is designed to offer more one on one and group support to help people get selling. We also offer a variety of exclusive bonuses to our members as well.
This will be the first time in roughly 6 months our group will be opening again and the crazy part is that we've got several members selling even more than I am.
Just a few of the folks in our mastermind group that started from zero like me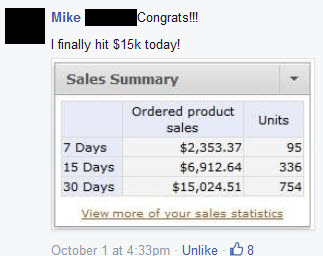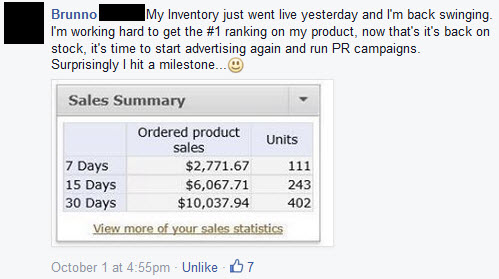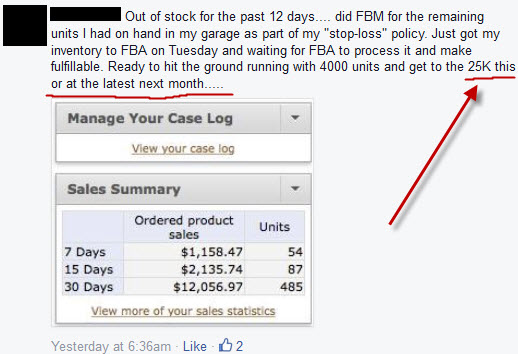 Can you go out and try and figure out how to sell on Amazon on your own? Sure but you're more likely to fail than if you learn from someone who has done it before. It really is that simple.
Years ago when I started building websites and trying to make that work I wasted several years in niches I shouldn't have even tried. In hindsight if I had the opportunity to learn from someone that had been there and done that it would have greatly accelerated my learning curve.
That's precisely why I'm involved in running this mastermind and why I'm so excited for our next batch of students. If you'd like help learning how to sell on Amazon sign up for the waiting list here. It opens October 16th and closes October 24th.
We will have several webinars, Google hangouts and more to provide people plenty of opportunity for you to ask any questions you may have.
[yellowbox]
BONUS:
Click here to access your free video training
on how to create a 6 figure plus Amazon FBA business in your spare time.
This step by step guide is the exact formula I've used to create my Amazon business[/yellowbox]