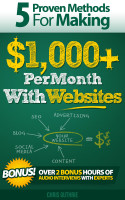 It is currently only $0.99 via Buck Books (I have a podcast session coming up with the creator of Buck Books you'll have to check that out). I'll be raising the price in the future.
In this book, I cover 5 different ways that you can make money over $1,000 per month with various websites.
Although I have been personally making money with these kinds of websites, I wanted to interview experts in each type to bring you the best information.
You'll learn directly from:
Spencer Haws on niche websites
Peter Armstrong on authority websites
Dan Andrews on E-Commerce websites
Stu McLaren on membership websites
Myself on review websites
Along with the highlights of the interviews, I've included links to the audio from the interviews as well, along with the resources talked about for each type of website.
You can grab it for only 99 cents right now via Buck Books.
If you enjoy what you read, please leave a review for the book (here's how to do it)
If you'd like to read the book but don't have a Kindle, don't worry, there are plenty of ways to read it:
None of those ways cost any money to use.
P.S. I've been releasing more Kindle books lately because I want to brain dump the last 5 years of stuff I've learned from building my businesses full time.