On Oct 25th to October 26th I'll be in Las Vegas for the Rhodium Weekend event where I've been invited to speak on the topic of buying and selling websites / digital assets (boo yah).
The event actually starts on Oct 24th but I have a scheduling conflict and will miss the first day.
The Number One Thing I Like About This Event
The attendee rate is capped at only 45 people.
I absolutely love events that are intentionally small because the quality of the relationships built during the event are always much higher.
If you're interested in learning about buying and selling digital assets then this is a great event to come out to.
I'm excited to finally get to meet Justin and Joe from Empire Flippers (they'll both be speaking) along with Justin Gilchrist in person. I've exchanged emails and Skype calls with these guys over the last several years. The other speakers look great as well.
Early Bird Pricing Expires Sept 19th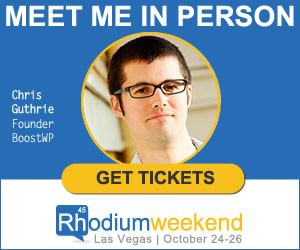 As a speaker at the event I've forgone getting a commission from any ticket sales I refer and instead have passed the savings onto you.
Special Rhodium Weekend Rate Link – Click Here (Expires Sept 19th)
Anyone can apply to the event regardless of your experience level, but you do need to apply.
I'm looking forward to meeting some blog readers. My podcast 20 guest Matthew Paulson will be there and he's killing it with his websites as well.