Survey Chris just finished up it's fourth month of being live, and the growth is starting to pick up. If you have missed the first three months, you can see month 1, month 2, and month 3.
I already touched on my 1KBlog case study when I first published – How to make money with survey companies, but for those that missed it I'm building a blog that generates at least $1,000 per month or more and I'll be documenting the process here on my blog. Now let's get into what I did this last month on Survey Chris, what the results where and what they mean.
SurveyChris.com Month 4 Report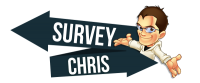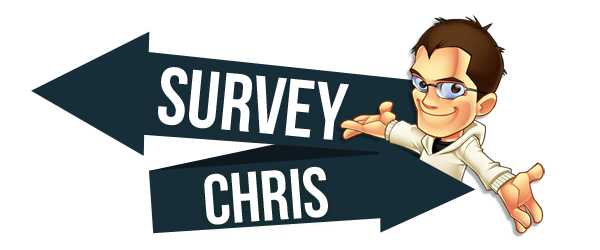 I'll start off by talking about what I did for August on SurveyChris.com, then my income results along with my mailing list growth. I'll also talk about how the eBook on taking surveys went, although I won't get into the marketing or it too much, since I'm still executing on that and am planning a bigger post on Kindle book marketing in the near future.
After that, I'll talk about my plans for the next month and the growth I'm really hoping to see in September.
Content Created in Month 4
Survey Chris Kindle eBook:
I finally published How To Make Your First $1,000 With Online Surveys on Amazon. This book was about 2 months overdue, but I finally got it published. I published it the last week of August, so it is still pretty new.
With some minor marketing, it was able to get 436 free downloads, and sell 15 copies for $0.99. Not bad, but not great either.
Over time I should be able to sell considerable more copies though as the book only came out in the final days of the month.
Note: I didn't cheat and send an email to the tens of thousands of email subscribers and customers I have. I'm trying to leverage as little of my platform as possible.
I did get one very nice 5 star review though, which was great to see.
Reviews Published:
This is actually the most disappointing part of my August review, but I did not publish any survey reviews on my survey review site.
This wasn't a planned strategy, but mostly just that I only cashed out one survey company (InboxDollars)*, and they pay by check. I include my income proof with my reviews, and I didn't receive the check until Saturday, so I didn't have enough time or want to publish a review on a Saturday or Sunday.
Since the reviews of sites are where I make the most money, not posting reviews is definitely not the best strategy.
But I did create a ton more content in other ways, and seeing SurveyChris grow without any new reviews is very promising. I have only reviewed 7 of the 50 survey companies that I would like to review, so there certainly a lot of potential for income and traffic growth in this niche.
Blog Posts Published:
This is where I was most productive in the month of August. I published 16 blog posts on Survey Chris. That is about one post every other day.
The reason for so many blog posts is that I did a ton of work up from on content research. I've talked about my strategy for coming up with articles in the past, so I won't get into it too much here.
I will note though, that all of these articles are long tail keyword based, and I'm starting to see them bring in more traffic. I came up with so many long tail keywords using Long Tail Pro this link gives you 30% and SEMRush.
The reason I'm writing so many long tail keyword articles is because they have such low competition, and my main competitors aren't doing it. Since they are currently outranking me on my more primary keywords, like "[survey company] review", this is a way for me to grow my organic traffic while I compete in the harder keywords.
The best part is that this strategy is starting to pay off, as my articles rise in the ranks of Google. Plus, a couple of these articles are starting to naturally get backlinks, so that is helping out my site overall.
This is such as easy strategy to use, that I recommend it no matter what kind of website you are building out. There's no need to wait until your primary keywords are ranking to start getting organic traffic.
Videos Created:
I finally got back to creating videos. This month I published 3 new ones on the Survey Chris Youtube Channel. I published videos on Opinion Outpost, Swagbucks, and Harris Poll Online.
This videos are a great way for me to distinguish Survey Chris, because my main competitors aren't doing videos, and people doing videos aren't doing blog posts to back them up.
Here's a quick update on my videos from last month to this month:
I'm happy to see that CashCrate, FusionCash, and i-Say all doubled in views from last month. I am hoping that with the 3 more videos from August and a couple more in September that my YouTube channel will start growing faster.
Again, just like my Kindle book the videos are done once and will continue to drive revenue for me.
Month 4 Income Results
So here is the exiting part of each income report, the actual income.
To keep it simple and be able to better line up my results with what I did for the month I'm tracking what I earned in the specific month and not what checks I've cashed or Paypal deposits I've received within that month:
This all combines for a monthly total of $199.35
For July, I made $112.66
I made $86.69 more in August than in July. This is great, and is my highest month yet. I'm happy to finally grow past the first month's income of $192.19.
That good first month was mostly due to you and other readers of EB. I'd like to say thank you, but leveraging the audience of Up Fuel to make $1,000+ a month doesn't make for the best case study.
Since the referral traffic from this blog is way down and the organic traffic is growing, I finally start to see about the level of income that if I wasn't making Survey Chris a open case study.
What is also promising, is that I am only starting to rank on the first page for a few of my keywords, which means that I have barely broken into the traffic that organic traffic will send. And this traffic is where big growth will come.
Month 4 Email Growth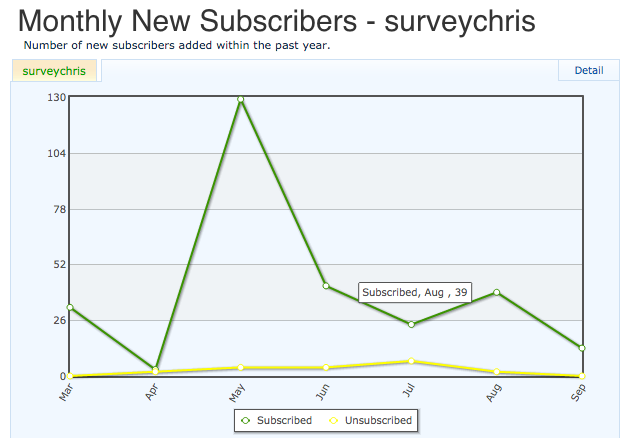 I got 39 new subscribers for August, which put me at 269 for the end of the month. I'm hoping to get this even higher with the coming out of my new Opt In plugin that I'm creating with BoostWP. The bigger my email list, the more traffic I own that is high converting.
For September, I plan on building out my auto responder series a lot. For September's update, I'll make sure to include how many auto responders I added and how much this helped my bottom line.
I have been, and will continue to use Aweber ($1 trial link) to build my auto responders. This is traffic that I own and converts well. Like every update, I advise you to start building an email list if you aren't already.
Month 4 Traffic Results
Survey Chris just about doubled in traffic this last month, which was great to see. That is certainly one of the most important parts of building anything successfully online is simply getting people to your website.
As you can see, then second half of August was way better than the first half, so this should continue to grow right through September. We are getting more links, and with the articles put out, I fully expect to have many more first page KW rankings.

Now SEMRush, like I mentioned last month isn't always accurate, but I do think it is accurate enough to take into consideration. As you can see from the graph, not only are our keywords in general growing, but I am definitely starting to get some first page rankings.
As you can see in the picture, my bounce rate has increased. While this is bad for some sites, this is actually a good sign for Survey Chris. The goal of this site is for someone to search for a survey company's review, see my review, read it and if the site is good, click on the referral link and sign up. This is technically a bounce, so I do make my money with "bounces".
It's just good to know what the data means when you are trying to decipher it. Looking at the bounce rate isn't enough information for a site like mine to see what is working and what is not.
That's why I like checking the data on my Better Links Pro Dashboard to see which referrals links are getting the most clicks. Is it my emails, the YouTube videos, the sidebar, etc. Once I figure that out, I know where to put more of my efforts.
Plans For Month 5
More Kindle Book Marketing:
The Kindle book got some good traction for starting out, so I'm going to try to do some more marketing with it, working it into my email auto-responders, along with utilizing the last 2 free days of my KDP Select program. I'm hoping a few more reviews will get it higher ranking under it's KWs which will grow it from there.
SEO Strategy:
Pretty much just more of the same. Keep publishing a lot of articles, a few reviews, and YouTube videos to get more traffic and links back to the site.
Like I've mentioned before, we will keep up our bigger scale SEO plan, which I plan on sharing with you in the future once it is fully implemented, and I can share the full results with you.
Content Strategy:
More articles, more reviews, and more videos. It's a pretty simple plan that I expect to start paying off bigger and bigger each month.
I also plan on at least doubling my auto-responders for my email list, since they are higher paying and I now have a ton of articles that I can drip. Since my email list has been such a good payoff, I definitely want to make sure I am using it to it's full potential by making sure my subscribers are getting all my information.
I do believe that I am producing the highest quality information in the niche, so I do expect that to work well combined with my email list.
Overall Month 4 Assessment
Overall I am happy with August. I do wish I had broken $200, but I guess I will have to wait for next month. With the growth rate towards the end of August, I am hoping that I skip over the $200 benchmark and am reporting even higher numbers come a month from now.
I am excited that I beat the first month's income when I first announced this case study because now that I'm sending very little referral traffic from this blog the income is coming from the work I'm putting in.
The First 6 Months Grind
Reading these income report posts you may think that the ~$200 income is pretty low for the 4 month mark, but the challenge is that Google doesn't trust brand new websites.
It takes time to get organic rankings.
The way to look at this early work is that as the site grows I'll continue to make more and more money from work I did in the first 6 months until it gets to the point where while I'm hanging out with friends and family on the weekend and not writing any new content I'm still making money.
Unfortunately most people give up before they see progress because it is hard work when you're starting out.
If you can push past the initial high effort low reward time period then you'll eventually reach a point where the same 10 hours a week you work on a website 1 year from now will yield 5x, 10x, 20x or more income.
Full Disclosure: I have hired someone to help me out with some SurveyChris.com blog articles and reviews. Sure I could do absolutely everything myself, but I have other businesses I need to be focused on as well.