I just listed one of my websites for sale and because I've been talking about buying and selling websites on my blog so much lately I thought it'd be a good real life example to cover. I have sold websites in the past (example), but generally I do not sell many websites as I prefer to buy websites. I like the process of improving an existing website and then keeping the easy additional income stream. I'll get to why I'm selling the website but first let me cover what it is.
What Is The Website I Am Selling?

The website I'm selling is Coupon Code Plugin – the first WordPress plugin that I ever released. I had the idea for this plugin last year as a way to help make sure I was getting credit for all the coupons I would be using for Black Friday, Cyber Monday etc. that I'd be using on my various product focused blogs. I partnered with my buddy Hyder from Weborithm to have the plugin developed. In this instance we decided to do an income split where he would handle development work and I would handle the marketing and selling of the plugin. I've done a partnerships like this in the past on various ventures and I'm a big believer in focusing on what you do best and only focusing on those things. It's worked well for me so far and that's why I've never learned how to code myself and why I just partner with others who are good at that (or hire them to help me out).
Where Am I Selling This Website And For How Much?

Unfortunately, this website is not even close to being big enough to sell with the help of a broker and although I've said before that Flippa is not always the best place to buy and sell websites I do believe they are one of the best places to SELL websites under the $100,000 mark. I have only listed one other website for sale on Flippa years ago that didn't sell back when I was still a noob. Since that time I've been involved in numerous other private sales, but I'm retrying Flippa for this website in part as another public case study for you to follow along with and also because I think it's an inexpensive starter website property that you might like to pick up on the cheap.
I started the auction for this website for only $1 and the reserve is set at only $1,000. I also set a buy it now option at $4,000.
Why Am I Selling This Website?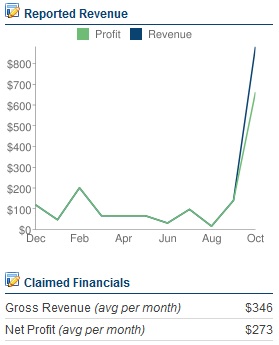 Unfortunately the plugin never really took off in a huge way like some of the other projects I've done, but sometimes that happens. I think the blame falls on me as I could have done a better job marketing the plugin to a different demographic of potential buyers – like the hundreds (thousands?) of coupon bloggers that crop up every month. The primary reason why I'm selling though is that I'm trying to just have one less thing on my plate to think about and the monthly income stream could be improved on by doing more marketing / partnering with other plugin sellers etc.
When compared to most of the other inexpensive listings I believe this is actually a pretty solid website for the price.
So who wants to buy my website?
See the auction listing here ๐Ÿ™'
The $1,000 reserve doesn't even cover the development hours in this plugin so I really do think it's a good deal (yes I'm of course bias) I'll see you in the comments below and perhaps as a bidder on the listing ๐Ÿ˜€
Note: If you did purchase this plugin from me last year (or even recently) I will of course still help with any support issues you may have.