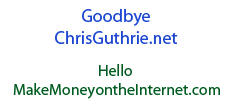 This is Part 1 in series of posts where I will document the results from moving my old blog at ChrisGuthrie.net to the new URL here at MakeMoneyontheInternet.com Update: The new blog is now at UpFuel.com
I'm going to document this blog move as a case study and share how long it takes for the search traffic to bounce back. In the past I really didn't get a lot of traffic to ChrisGuthrie.net especially because I didn't write very often; however, I did still have a few search keywords that continually brought me traffic every month. With that in mind the main thing I'll be looking at is to see how long it takes for these ranks to recover or if they're lost for good.
Here's how I moved my WordPress blog
I followed the steps on this great guide by Yoast; however, the 8th step didn't work in his guide didn't work so I used the .htaccess code mentioned in this guide to finish up the move.
There is no need for you to update your RSS feed as I've already done this on the backend (side note: don't try to update the Feedburner URL as that won't work, you can only update the source URL. You're stuck with the Feedburner URL unless you want readers to resubscribe hint: don't do that).
Why I made the move
By now you may be wondering why I would choose to move my blog to a new domain in the first place. Well, I made the decision to move my blog to a new domain for several reasons.
1. No one searches for "Chris Guthrie" (well, actually 27 people do per month)
2. I was annoyed that I couldn't convince the owner of ChrisGuthrie.com to sell me the domain name (my last offer was $1,500)
3. When people arrive at my blog it's not entirely clear what it is I do until you read some of my content
4. The Chris Guthrie character drawing is one of those things that says to readers "Don't take me serious" and puts me in a hole that I have to dig out of with the quality of the content I write. Or in the worst case scenario leads them to leave the page before they even see what I have to say.
5. There is no potential for selling in the future (not that I care to, but I like to have my options open)
I am using the character for a new project I'll be starting soon and will document on this blog a different case study. I plan to have a lot of fun with that new project and am flying to Las Vegas for CES next week partly because of that project (more details to come).
There are other reasons why I made the move, but the list above consists of the main ones. Either way I am very excited about the move and the opportunity to start blogging on a more regular basis now that I'm officially self employed. In fact, I've been holding back several ideas that I'm very excited to share in the coming weeks. In my next post I'll share my highlights from 2009 and my goals for 2010 so be sure to subscribe to my RSS feed.