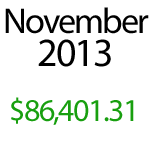 Last month after a few years of not posting regular income reports I shared my first report along with the fact that I had made $41,370.67 in October 2013.
In November I more than doubled October's results for a final tally of $86,401.31 profit in a single month! (boo yah)
I'd love to say this was a normal month for me and that the $41,370.67 of the previous month was uncharacteristically low, but November was actually my high mark for the entire year due in large part to a wire transfer I received for $42,000 from a website I sold.
Video Proof Logging Into My Escrow Account
I knew that I'd have a comment or two from skeptics doubting that I actually made the money (and people that simply chose not to comment). So for this month I decided to show the largest source of my income for the month (my $42k website sale) by logging into my Escrow account and explaining some more parts of the sale:
Webcam tilt fail, should have tilted down more hah.
How Else Did I Make Money In November?
The same usual suspects I shared last month:
Income Source 1: Running my portfolio of websites
Income Source 2: Buying and occasionally selling websites
Income Source 3: Software products I hire others to develop
Income Source 4: Email marketing
Income Source 5: Miscellaneous stuff
You can read more about those in my last income report.
Previously I explained why I couldn't share a detailed breakdown of my income sources. Most people who commented understood, but it basically comes down to the fact that it's a huge risk for very little to no upside for me.
If I share every single website I own along with how much money it made, or which software product I own made me the most money etc. it draws far too much unnecessary attention and an insight no competitor shares with me.
Important: About My Income Reports
When you read an income report like this where I'm sharing that I made $86,401.31 profit in a single month it's important to realize that this level of income has come from a little over four years of running my business full time and a few years before that of trying things out while still working a 9 – 5 day job.
I also want to point out that while it should be irrelevant to you what I spend my money on, the proceeds from this month will likely go right back into my business in the form of buying a bigger website to replace the one I sold for $42,000.
(I gotta do something to replace – and ideally exceed – that lost $1,500+ per month income stream).
As much as I'd like to buy a Tesla Model S in cash from one month's earnings, I learned 6 years ago that buying my 2008 Subaru WRX dream car at the time only increased my happiness temporarily until I realized that I'd have to work that much harder to make up for the new found debt I found myself in.
Instead, I'll save the Tesla for my first 7 figure profit year (even then I'd probably just buy it used).
The idea of investing back into my business is more about hitting my goal of financial independence well before I reach 40 years old.
But with all that said…
Here's How I'll Help You In 2014:
I completely understand that me sharing these numbers without a lot of insight into every source I earn my money from does little more than to just prove that I'm at least somewhat successful (depending on your definition of the word), but with these reports I hope they inspire and show you that it is possible to build a substantial online business working entirely from home.
Just five years ago I was making less than $1,000 per month, but in one month I made over double my entire year's salary at the last job I was fired from four years ago and that's what excites me about online business. The ability to scale.
What I'm doing in 2014 is to create more nothing held back public case studies from start to finish (like this one) showing you how to make money with websites by revealing URLs for websites I own or doing Kindle books etc along with revealing sales information, income reports and marketing strategies that I employ to achieve success.
Either way, if you'd like to learn start to finish how I make money online please do join my email list below to receive updates on new case study posts I share in 2014 and beyond.
Hope this helps and I'd love to hear from you. I reply to every comment.