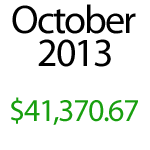 It has been a long time since I've disclosed my personal income stats from my business, but I'd like to give an update.
If you're just here for the number here it is: I made $41,370.67 in profit for October 2013
So in one month I've earned more than what I earned in my first year at my full time sales (the one I recently celebrated getting fired from 4 years ago), but there's more to it than just a number. First…
Let me explain why I'm not a douche…
Look I get it.
You come by my blog, or perhaps you've been reading a while and you're thinking to yourself
'Why is this douche bragging about all of this money he's making?'
I'm not sharing these stats to brag.
I drive the same now nearly 6 year old car I should have never bought new in the first place and even if my income grew enough to justify it, there is no Ferrari in my future (Besides, I'd prefer a Tesla Roadster if I wanted an incredibly fast car).
I also bought a relatively cheap house for my area at $130,000 last year instead of picking up the Guthrie Castle (I'm still a little short on the funds to buy that).
Instead, I've been spending my surplus money on growing my business, a complete remodel of our fixer upper house, fertility treatments (wife now pregnant with twins – boo yah), paying down my wife's remaining student loans (which we should have never got in the first place – story for another day) and maxing out my SEP IRA contributions (capped at 20% of your income or $50,000 max).
I'm just trying to enjoy what I do for a living, grow my business, build meaningful relationships with fellow entrepreneurs, help people willing to put in the work to get started and have plenty of free time left over for friends and family.
Why I stopped posting income reports years ago
The last real in depth income report I did was back in early 2011 when I showed how I got fired in 2009 and in my first full year on my own earned over $150,000.
To go from working a corporate sales job, getting fired right before the holidays and then to follow it up the next year with earnings that exceeded 2.5x that day job felt like a great accomplishment for me at the time.
In the past few years I shifted most of my focus away from blogging regularly here and instead onto more lucrative projects (such as other websites I was running, websites I bought, software projects I was creating, etc).
Because I was already writing a lot less it just wouldn't make a lot of sense for me to just post income report after income report on my blog with little extra content, so I just didn't do it.
Where my money comes from – and why I can't provide all of the details
This is the part that may disappoint some people, but let me explain why it's incredibly stupid for me to go down to the penny listing out every income source on a project by project basis.
The vast majority of my income comes from stuff that I'm out on the internet doing – not related to my blogging and podcasting here at UpFuel.
(No hate for the folks making most of their money from their blogs of course. I just make this distinction to help further explain why I can't be so specific in my reports.)
Income Source 1: Running my portfolio of websites
How my websites make money: Google Adsense, Amazon, LinkShare, CJ, Kontera, Vibrant Media, Value Click Media, other affiliate programs, etc.
I've already shared URL's of websites I've built and sold, bought and run and I do have a full on case study I'll be doing soon to reveal more about that.
Unfortunately, sharing every URL would potentially risk tens of thousands of future dollars for me and my family.
Income Source 2: Buying and occasionally selling websites
How buying and selling websites makes me money: I make money by increasing the value of websites I buy (in the form of increased monthly revenues or driving more traffic). I also make money when I occasionally sell a website although my investment strategy is more buy and hold.
I sold another website recently (to add to the roughly half dozen I've sold this year), but the wire from Escrow.com didn't come in until November and because a deal is never done until you have the money in hand I didn't include it in this month's stats.
For next month's report I'll film a short video by logging into my Escrow.com account just to quell any of the doubters out there.
So… sure, I could disclose the URL of the website but I'd rather have the money than a breach of contract on my hands so I can't really tell people about this sale as much as I'd like to.
However, I have shared some examples of URLs on my blog before and I discuss several more sales in my Kindle book on buying and selling websites.
(Amazon Prime members can borrow it for free here).
Income Source 3: Software products I hire others to develop
How software products make me money: I hire people to create software products that solve pain points in my business and that I know others experience as well. I then sell these software products at ideally a profit over their thousands – to tens of thousands of dollars – in development costs. I've never written a single line of code (besides basic HTML and CSS), but I do know how to identify pain points and solve them through well thought out software solutions.

Example: EasyAzon
If you have a niche or authority website that you're trying to monetize with Amazon's affiliate program without a doubt you're leaving commissions on the table if you're not using EasyAzon.
I can say that with complete confidence because just one component of the software can help users make more money from their affiliate links by auto redirecting global traffic from countries like Canada, China, France, Germany, Italy, Japan, Spain and the United Kingdom over to their own respective Amazon website.
So EasyAzon users can now get commissions for those countries that would normally be wasted (Someone from Germany can't buy from Amazon.com but they can buy from Amazon.de).
It's also way faster to create affiliate links with EasyAzon than going to Amazon.com every time you want to make one, but at the risk of getting too off track I'll stop there.
I'm not afraid to sell especially when I know my products are fantastic (EasyAzon has seen nearly 2 dozen updates all free for customers since we first released back in mid 2011).
If I went down the list of every single software product I've created in every single market along with revenue stats and expenses for each one there's a risk of bringing on extra competition when I don't need to.
Income Source 4: Email marketing
How I make money with email marketing: I promote my software products and sometimes other affiliate offers. I also promote products to the email lists of websites in my network.
Email marketing is more of a monetization strategy for the various websites that I run but because it's so effective I felt it necessary to break it out into it's own section.
For example: Last month in a non marketing Kindle niche that I'm in I sent an email promotion out about a new book we've put out and we got over 300 sales in 48 hours. That's absolutely awesome (and just a very small revenue generating example). This is precisely why you should build an email list.
Income Source 5: Miscellaneous stuff
This is more of a catch all category where I generate income from a variety of other smaller sources. A few examples would be things like filling out online surveys, Kindle books unrelated to this blog, Facebook fan pages and so on and so forth.
So Why Can't I Share Detailed Income Stats?
I said this from the very beginning, but a very low portion of my income actually comes directly from the traffic to this blog.
For example: Last month I made less than $1,000 on hosting referrals (pretty pitiful actually when I look at income reports from other marketing bloggers).
So the primary reason why I can't really share much is pretty simple.
Either I'm contractually prohibited from sharing the URL on a website sale (for example), or the income that comes from a new business with another partner involved isn't interested in being so forthcoming about private financial data, or I just don't want people to see an income break down of every single one of the websites in my portfolio for obvious reasons.
Put simply. I have far more downside to share detailed stats than I do upside.
How I Can Still Help You Out
I agree that it's cool that there are bloggers out there willing to share every single thing they make money from. Hat's off to them, but at this stage in my business it just doesn't really work for me anymore based on the reasons I've explained before.
Here's what I'm doing instead…
My plan is to push forward into 2014 with more detailed case studies where I will show you the complete details from that one specific website, project, etc.
That way you can follow along with me from the beginning with a new project.
We all have to start somewhere and 5 years ago I was earning less than $1,000 a month online and since then it's taken me several years of very hard work to get to this level.
I've met plenty of others that have done better than me and in less time, but for me I already achieved my goal back in 2010 which was to simply make it on my own.
That's what this blog is about.
If you love your job and "only" want to learn how to make an extra $1,000 a month online, the strategies I discuss here can help you accomplish this goal as well.
Although I didn't provide a line item by line item breakdown, I hope this report can still help you and at the very least serve as some form of inspiration (as cheesy as it sounds to type that).
With that said, if you'd like to find out when I'm doing new case studies, blog posts, etc., then please join my email list below.
Comment and let me know what you think…
Quick Update: For the more savvy readers that may have tried to look up various sites on this server. Obviously I have different hosting accounts etc that are separate from anything tied to this. (Just thought I'd point that out as I had a snarky comment come through about it)