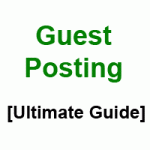 This is the first in a new series I'm starting on "Ultimate Guides". The goal is to provide a fresh and comprehensive look on an often times stale topic. If you like what you see please subscribe to my blog, share this article via Twitter or link to it from you blog.
Why you should guest post:
Guest posting is one of the best free ways to drive traffic, get new subscribers and free links. In fact this is one strategy I've used on this blog a lot and I've shown my traffic graphs below, but before we get to that I want to cover the basics and essential knowledge you should know to make the most from guest posting. By guest posting you can get the following for free:

Traffic: Without traffic you can't get visitors to your blog and in turn make money. It doesn't matter how much time you spend setting up your blog because at the end of the day if you don't have traffic you have nothing.
Subscribers: When new visitors come to your blog you have the opportunity to turn these visitors into subscribers. These subscribers are the people that will comment on your blog, become your true fans and help spread your message to their friends.
Links: The links you get from guest posting are used to help improve your search engine rankings. You often get a choice of a free link back to your own blog with your desired anchor text within the content of the blog post.
Bloggers like guest posts because it's free content for them from a fresh perspective. The readers get to see something in a style not usually offered by the primary blogger and used correctly guest posts can help breathe new life into an established blog. The guest blogger in return gets free traffic, free subscribers and a free link. Win Win!
How to find blogs to guest post for:
Guide Update: I always felt this section was a little weak and that finding blogs to guest post on manually was too slow, so I had Guest Post Hunter built which allows you to find blogs to guest post on much faster.
Here's the older slower methods…
Know Your Niche: If you haven't reached out to other bloggers in your niche start doing it now. I probably know 30 other bloggers in my niche both large and small. I make it a habit to follow their blogs so that I can see their style of writing and adjust my writing style to better fit their audience when I submit a guest post. But first, I contacted them via email to get to know them (without being annoying) or I start commenting on their blog. I never lead out with a request to guest post without having gotten to know the person behind the blog first.
Google Search: Another source is to simply search in Google for related blogs using the keywords you're targeting and look at the blogs that come up in the search results. Visit these blogs and then look for a phrase like "Write for us" or "Become an Author" and start interacting with them via an intro email and/or blog commenting (more on why and how I do this later).
How to write posts that get published:
Spending a lot of time writing a guest post only to have it denied is the last thing you want to do so in order to avoid that I've outlined some general principles you should keep in mind while writing a guest post.
Tips for Success:
Write unique high value content that hasn't been shared on the target blog before
Follow the same format the target blog uses for their posts (i.e. Do they use an h1 tag, h2 tag or no tag, bullets and/or numbered lists, bold text and/or italics, certain number of images etc.)
Send the post via email in a .txt file that is pre-formatted so the author can simply copy and publish
Use a closing byline that gets people to click through to your blog – Pitch yourself! i.e.


If you have interacted with the author before sending in your guest post they are more likely to remember you and less likely to turn you down. Even if you have spoken to the author before it's crucial that you keep your email pitch to the point. Some authors will get back to you within a couple hours and others can take weeks. I usually wait at least 10 days before sending a follow up request for an answer.
Real example guest post pitch email: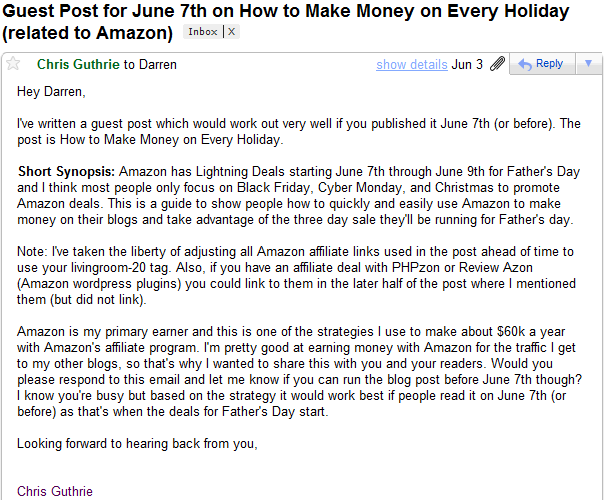 This is the exact email I sent to Darren Rowse and he in turn agreed to publish the guest post on Problogger.net June 7th. This specific guest post pitch email was longer than most that I send because it was on a topic that was time specific as Amazon was running deals on Father's day starting June 7th. (Usually my emails are about half that length)
How to get the most from your guest post:
There are some key elements that are crucial to provide the best results from your guest post:
Write Amazing Content: I've said this before but it needs to be said again. If you want to get more traffic and subscribers you must write unique amazing content that almost forces the reader to want to find out more about you. For many of the readers this will be the first time they've heard of you so be sure to make a good impression.
Link To Your Own Content (Only When Applicable!!!): Most bloggers don't like to publish guest posts that include self promotion, so if you do try and promote yourself within the guest post only do so when it helps to better tell the story (i.e. see the links in the first paragraph of the Problogger.net guest post).
Write A Strong Byline: I've also said this before but it's important enough to repeat. The byline is your last chance to get the reader to come through and visit your blog. Even if your article was amazing people still need to be convinced that it's worth the time to check out your blog. If you don't write a strong byline you'll get significantly lower results.
Respond to Comments: If you don't respond to the comments on your guest post than you miss out on an opportunity to connect personally with the readers that took the time out to comment on your post. I make it a habit to reply to any comment where a question is asked or if I need to help clarify some point to the reader (i.e. see my comments in this post as an example)
Welcome New Visitors To Your Blog: I use the WordPress plugin What Would Seth Godin Do to provide a welcome message to new visitors. It only displays once but I link to some of my best content and briefly tell my background and why they should subscribe to my blog. For guest posts that go live on huge blogs I've also done a "best of my blog" post to do an even better job of getting brand new visitors to subscribe.
My Guest Posting Results:
Now after reading my guide you may be wondering how well guest posting has been working out for me. Well, I've taken a sampling of some of the bigger blogs and smaller blogs I've written guest posts for and shared them below along with the traffic they sent. I also calculated the "Engagement Ratio" (as I like to call it) which is the total number of visitors divided by the total number of RSS subscribers over a 2 week period. Some of the big blogs didn't send as much traffic as I thought they would but this could be because the guest post I shared wasn't as good as the one I shared on another blog or any other reason. It's impossible to draw the conclusion that one blog is better than the other because there are too many variables to factor in, but regardless it's still interesting data worth sharing:
Traffic Graphs:
5 Symptoms of Blog Failure published on FamousBloggers.net March 29th when the blog had 838 RSS readers


Engagement Ratio: 5.72%
Why I won't follow everyone on Twitter published on BlogGoDown.com March 26th when the blog had 1951 RSS readers


Engagement Ratio: 3.02%
Is your bounce rate killing your blog? published on JohnChow.com April 14th when the blog had 77,102 RSS readers


Engagement Ratio: .07% Yikes! In all fairness though the article should have been better and I didn't link to myself very well (I also think a ton of these RSS readers are actually newsletter subscribers)
You're a full time blogger, now what? published on DavidRisley.com April 29th when the blog had 12,239 RSS readers


Engagement Ratio: .4% Like JohnChow I believe many of his RSS subscribers are actually newsletter subscribers and perhaps my article just didn't resonate well with his audience?
The Simplest Way to Create Unique Content published on SmartPassiveIncome.com June 2nd when the blog has 6,755 RSS readers


Engagement Ratio: 5.79% Very nice, thanks Pat!
Why you need a blogging business plan published on MaxBlogPress.com/maxblogger/ June 5th when I was told the blog had 70,000 email subscribers (no counter on the website)

Engagement Ratio: .67% Fairly low ratio, but the sheer numbers make it a worthy guest post
How to Make Money on Every Holiday published on Problogger.net June 7th when the blog had 130,000 RSS readers


Engagement Ratio: .3% These results were also lower than I expected, perhaps the primary audience doesn't care to make money via Amazon's affiliate network? I think they should reconsider. I do know again in this situation many of the RSS reader numbers are newsletter subscribers. Still worth it though of course.
Closing Thoughts:
The traffic, new subscribers and brand exposure brought about by guest posting can be huge if performed correctly. What I shared above is just a small sampling of the results from guest posts I've published so far this year and I still plan to do more in the future. I also think it could make for an interesting case study follow up to guest post on the same blogs again and see how the engagement ratio changes. In either case, I hope this helps you in your guest posting efforts and if you did find this interesting I'd love for you to take the time to retweet this article, link to it from your blog or share it with your friends. Lastly, you should subscribe to my blog – but only if you want more awesome tips not shared on my blog.
Oh, and did I forget you should follow me on Twitter too? Well, you should.