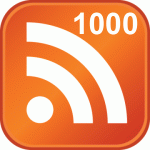 I crossed the 1,000 RSS subscribers mark June 2nd and it was a big milestone to hit and I'm very excited about the growth of this blog and where I can take it from here.
How I did it and you can too:
I can assure you this growth rate hasn't come about by accident but instead because I learned from past mistakes, came up with a good plan and then executed that plan effectively. I hope that in reading this you can learn some lessons from me that you can apply towards your blog as well.

Importance of True Knowledge:
The biggest mistake I had when I first launched my blog about earning a living online on ChrisGuthrie.net back in 2007 was that at the time I wasn't already making a full time income online (not even close). So for almost 2 years I continued to write despite being too foolish stupid to recognize that my growth rate would always be stunted because of the fact that I wasn't even close to an expert in the niche where true knowledge mattered. What I failed to realize is that when it comes to making money, people don't want to learn from someone that hasn't figured it out yet because how can you tell that the advice they give is even worth listening to? So I decided that I needed to quit my blog and focus on other niches where I could become an expert or (better yet) where being an expert didn't really matter. So that's what I did and guess what? It worked! I started making substantially more money than I had been before and when I got fired from my job in October 2009 I decided to go full time because I was already making more money than my day job (see my full about story). I made the decision to relaunch my blog on how to make money on the internet now that I was actually (somewhat) successful at doing it.
Takeaway Point: If you're struggling with gaining new readers on your blog ask yourself honestly if you have the expertise required to cover the topic. If you don't have the expertise in a niche where it matters than it's time to sell your blog (or abandon it) and move into a new niche where you have expert knowledge, can develop it easily or where being an expert doesn't matter.
Have a Good Story To Tell and Be Unique:
When I relaunched my blog I had a good story to tell. I tried writing in this niche before, failed, started making a full time income from other websites and decided to come back to this niche after getting fired from my job in October 2009. This is unique among my peers, but having a good story to tell is only one component that helped me get to 1,000 subscribers. I decided early on that I needed to be different than the other bloggers in my niche. I decided to go against using tons of advertising in and around my blog to show visitors that there was something different about me and I'm not just trying to make $50 selling the Thesis theme. I also knew that most people in this niche frequently write based on emotional ideas and rarely based on facts or raw data. i.e. What good is a list of the top 10 ways to get people to follow you on Twitter if you haven't analyzed which ones are actually the most effective and which ones are just filler so that the author can use the number 10 instead of the number 6? So in most of the blog posts I write I always try to use data when applicable to prove the advice I'm sharing is worth listening to (i.e. Amazon Tips, Speed up WordPress etc.).
Takeaway Point: What is your story? What makes you different than the other blogs in your niche? If you don't have an answer to that question you need to rethink your strategy and find a way to be different than the others in your market.
Implement a Marketing Plan
Even though I believe my blog is good and everyone that is earning money online should read it wishing this would happen is not enough. So I spent considerable amount of time marketing the content that I was writing. People say that Content is King, but I'd argue that Content is Queen and Marketing is King. So I focused on both writing great content and more importantly promoting it in as many places as I could. There are still channels that I haven't explored, but so far I've had great success with forums, guest posting, befriending other leaders in my niche and blog commenting.
Takeaway Point: It takes too long for people to find great content. Help this process out by promoting your content as much as possible. As long as you're providing true value people will be happy you shared something with them. The goal is to get to the place where your content begins to spread itself but the tipping point for when that starts to happen is certainly not before you hit the 1,000 subscriber mark – so get to work!
Wrap Up: What is your blogging plan?
The important thing to remember is what worked for my blog may not work for yours because each niche can be different. I focused on promotional strategies that I know would be effective in this niche because I've seen other bloggers use them. However, I also have blogs that I don't promote via forums, guest posting or blog commenting and they still get good traffic and contribute to my income. The point is that you need to look at the other blogs in your niche, find out what you can do different while still delivering value and then make sure you can get traffic to your blog using the most effective traffic driving strategy for your specific niche.
What do you think of what I've shared above? Do you think I can surpass 5,000 subscribers faster than by the end of the year? In either case, I have a very fascinating post ready for later this month on guest posting. Before your groan with displeasure I can assure you that this will be unlike anything else you've ever read before. My goal is that it should be the only source of information you should turn to when it learning how to guest post effectively. Subscribe here so that you don't miss out.
You should also follow me on Twitter as well (my goal is 1,000 followers before the end of the month)